Vice President & Publisher, STM books, in Oxfordshire [JOB POSTING]
Rare opportunity for an experienced Publisher to join a global STM publisher as their Vice President & Publisher, Engineering and Computing.  Within the Science & Technology Books division you will develop, plan and manage the strategy and operational implementation of content acquisition, product development and product management.
Key duties:
Lead implementation of business division strategy in Engineering and Computing markets, including print-to-electronic goals, co-publishing partnerships, acquisitions and divestments.
Ensure print to electronic strategy is implemented within assigned market according to business division strategy.
Conceptualize research, develop and drive market-facing strategy of all discipline/imprint lines.
Deliver signings, new products, revenue, and profit goals for assigned market.
Conceptualize, clarify and evangelize customer/market needs both within the team and to all relevant external stakeholders.
Lead and ensure successful launch of new products, product lines, programs and acquired properties appropriate to the market and content delivery for customers and applicable channels.
Lead, direct, and manage global staff in content acquisition, product development, and product management.
Collaborate with stakeholders in sales, marketing, finance, business development, operations, and all relevant editorial teams in the development of portfolio strategy, new products, market opportunities and delivery of revenue and profit goals.
Experience / skills required:
Extensive experience within STM / academic book publishing with excellent knowledge of all stages of the publishing and product development process
Extensive and varied experience in all aspects of the publishing process including content acquisitions, development and implementation of strategy, and market/customer analysis
Successful track record for delivering results
Ability to/experience with work within matrixed and entrepreneurial units
Strategic planning and budgeting expertise.
Strong analytical skills, customer/market focused; strong commercial judgment
Strong leadership skills including change management, risk taking, negotiating/influencing, communication and mentoring
For further information, please apply online or email a CV and salary expectations to clairelaw@atwoodtate.co.uk.
Contact: Claire Law
Tel: 020 7487 8314
—
book publishing, content acquisition, customer analysis, editorial teams, global staff, market opportunities, operational implementation, portfolio strategy, product management, technology books
---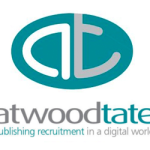 Atwood Tate
Publishing Recruitment Specialists
Atwood Tate
can assist on specialist publishing jobs at all levels - from first publishing job to publishing CEO.
---