Course overview
Pitching IS Publishing; you can't make a bestseller on your own, so everyone in publishing needs to know how to pitch a book persuasively AND to be able to do it online as well as in person. This course will help you develop your own presenting voice and increase your skill and confidence at talking persuasively about books in any situation.
Course outcomes:
Understand your audience better
Understand yourself better, as a speaker
Learn useful preparation and performance techniques
Pick up tips for handling your nerves
Who is this course for?
Anyone in publishing who needs to present books to others: Editors, Publicists, Marketers, Sales and Rights professionals and more.
Your Course Leader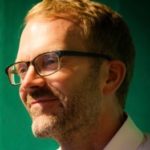 James' book career started glamorously, in the post room of Bloomsbury Publishing, before developing through sales and marketing roles there, at John Murray and at Hodder. He was MD of Watkins (then part of Osprey Group) before setting up his own business. James coaches publishers and agents in presentation skills and copy creation, as The Book Pitch Doctor and he is also founder of The Spare Room Project (sponsored by Penguin Random House) which finds free accommodation for interns in London.
Testimonials
'It was a thoroughly enjoyable. Relaxed, unthreatening, and for me great to come away with some tips after all these years of presenting.'

Mary-Clare Jerram, Publishing Director, DK
'James delivered a really useful, constructive training session, focused to our particular, and specialist, market. His skill in dealing with a group with widely varying experience was impressive and all delegates gave positive enthusiastic feedback.' –

Catherine Stokes, Head of UK Export Sales and Marketing, Nosy Crow
Need extra help from James?
About Instructor
Login
Accessing this course requires a login. Please enter your credentials below!