PublishDrive is an ebook publishing service which supports the operational processes of small indie publishers and authors. Kinga Jentetics is CEO and co-founder of PublishDrive, and here she shares their information on global ebook sales.
Amazon ebook market is not the only store where you can reach your readers
When it is about ebooks, many folks think about Amazon ebooks only. Obviously, Amazon is a dominant player in online book and ebook retailing… However, when it is global publishing, doors are opened for many new stores, business models and channels. As an indie publisher you have to explore other opportunities as well, how to make your ebook publishing efforts more profitable on the long term.  To be honest, it is always much wiser to have more partners than being dependent on one big partner. Because the future is always changing.
If you are an indie publisher, you can find even surprisingly lucrative business models in case of Scribd for instance. But of course, the end result always depend on the book category too. You can read more about the different business models here.
It may surprise you how many potential readers and earnings you may lose if you publish only on Amazon ebook market. Why would you do that, especially if you already have your own ebook converted? Look at our numbers and you will understand why it is crucial to go to other ebook stores as well.
PublishDrive's analysis on Amazon ebook sales
We analyzed the sales numbers of our publishers signed up and found that in case of English titles only 45% of the sales volume came from the Amazon ebook market. It is unquestionably a huge share, but still, if you are exclusive with Amazon Kindle through KDP, you may lose 55% of your potential readers and sales. You may earn more money in those stores and markets what you have never thought about to be more suitable for your target group.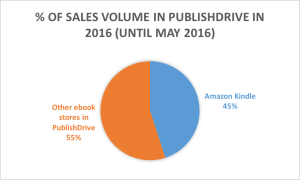 But why can our sales numbers show only 45%? Because:
we have many new channels integrated for English language books (even in emerging markets)
we offer merchandising option for many of the stores
our operations show if there is any discrepancy of your books being available in stores
you can see your realtime sales so you may alter your marketing efforts as well
To sum up
The numbers do not lie, so we believe in global publishing to all possible channels in a more transparent way. Amazon ebook market is very much important for all authors and indie publishers but do not forget that you may increase your sales by more than 100%. Just open your mind to new retailers.
This post originally appeared on the PublishDrive blog.