Chicken Soup for the Soul now wants to do that to your stomach
The Guardian points to a particularly nausea-inducing case of cross-platform synergy – more than usual, even, where the words 'cross-platform synergy' are concerned – courtesy of those loveable pseuds at Chicken Soup for the Soul, the self-described 'famous book publisher and world leader in life improvement, inspiration and wellness'. The world's fuzziest purveyor of vague, unquantifiable claims (which is also a registered trademark that has laid claim to the url chickensoup.com) is no longer just a metaphor for the life lessons you can learn from your cat or NASCAR, but will soon give your actual insides a tangible hug with its new line of soups, if by 'a tangible hug' you mean 'diarrhoea, probably'.
At this point, I really have to fight the temptation to copy and paste the entire jaw-dropping, diabetes-inducing press release, so let's just all consider this one particular paragraph:
Chicken Soup for the Soul Foods will launch its national line of comfort foods in early 2013,
beginning with soups. Inspired by real people and their stories about food, family, and feelings,
the line will expand quickly in 2013 and 2014 to include a full range of more than 100 comfort
food products in a variety of different categories. Perfect for singles or busy families, many
items will offer convenient ways to shorten meal prep time and serve delicious meals in
minutes, such as gravies, broths and meal starters that can be used to start a variety of
different meals, including pot pies, casseroles and stews. All items in the food line will also be
designed with today's health-conscious consumer in mind.
Naturally, today's health-conscious consumer will have no qualms about reheating food mass produced by the people responsible for the literary equivalent of the KFC Famous Bowl. Can't wait to see what tasty treats they come up with inspired by my real feelings of despair and howling existential terror!
Because we're all suckers for punishment, here's what Bill Rouhana, CEO of Chicken Soup for the Soul, has to say about the launch: 'Meal times play such an important role in living a well-balanced life that our readers and fans have asked us for years to launch a food line. By creating a line of delicious comfort foods that warm the heart and nourish the soul, we are providing yet another way that we can always be there to care for and support our community.'
So basically, 'hey, you know how you need to eat to stay alive? We have also realised that! Then we realised that that kind of relates to our name! It took us two decades! Now buy things! Preferably from us!', only written by a Care Bear chained to a typewriter made of candy floss. Jamie Byng is expected to release a statement on Canongate's forthcoming artillery line imminently.
Chicken Soup for the Soul, food, hilarious press releases, nausea
---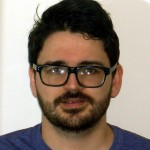 Chris Ward
Chris Ward writes and says things about books and music and films and what have you, even when no one is reading or listening.
He was chief hack and music editor of webzine
Brazen
from 2006 to 2010, and hosted
Left of the Dial
on Subcity Radio from 2008 to 2011.
He can be heard semi-regularly on the podcast of Scottish cultural blog Scots Whay Hae ('20th best website in Scotland!' - The List), and in 2011 founded
Seen Your Video
, a film and music podcast and blog based in Glasgow. He has a Masters degree in Scottish Literature from the University of Glasgow that will never have any practical application. You are on a hiding to nothing if you follow him on Twitter expecting any kind of hot publishing scoop.
Follow @iamchrishello
---