Snapshots III, the launch [EVENT]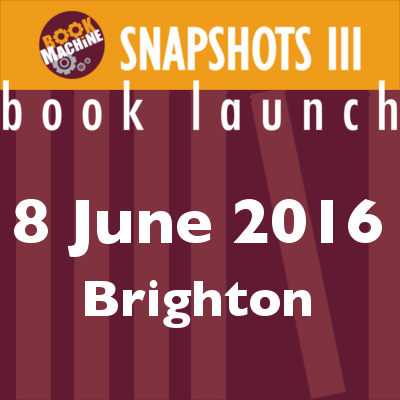 Today, a new must-attend free publishing event is announced. Snapshots III – the launch is an informal evening in 4 UK cities, in celebration of the third edition of this publishing-themed book.
Each event will focus on one of the four sections of the book. Events will take place in London, Oxford, Cambridge UK or Brighton and a range of top speakers will be delivering short talks. Speakers include Seonaid Macleod (The Publishers Association), Kieron Smith (Blackwells Bookshops) and Matthew Clayton (Unbound).
This third volume in BookMachine's Snapshots series, produced in collaboration with students from the renowned Publishing MA at Kingston University, focuses on what the next 5 years of publishing might bring.
The first part of the book is about Predictions. In this section, expert publishers give their insights into the next 5 years. From transitions in retail to new commercial models – a range of industry issues are covered.
Part 2 focuses on Thinking About Design. One thing that digital publishing has taught us is that slick design is fundamental to the success of any project. Multi-device publishing impacts on the design process, and as publishing becomes more global, there is much more to consider.
Part 3 is on Business Models. One noticeable change across the industry is all the new business models being explored. From adapting to smaller screens, to creating an online brand for a product – the publisher to retailer model was long ago disrupted; and now only the smartest business models will rise to the challenge in the new era.
Finally, this book covers Skills for Publishing. No longer is an English degree the only prerequisite for a publishing career. In Educational publishing there's a drive towards creating enhanced learning material which can include multi-media components. In the world of audio-visuals, 'editing' can have a number of meanings. Across the board, people who have digital skills are also in high-demand.
You can choose your city, and grab a free ticket by clicking here.