The skills you need to launch a podcast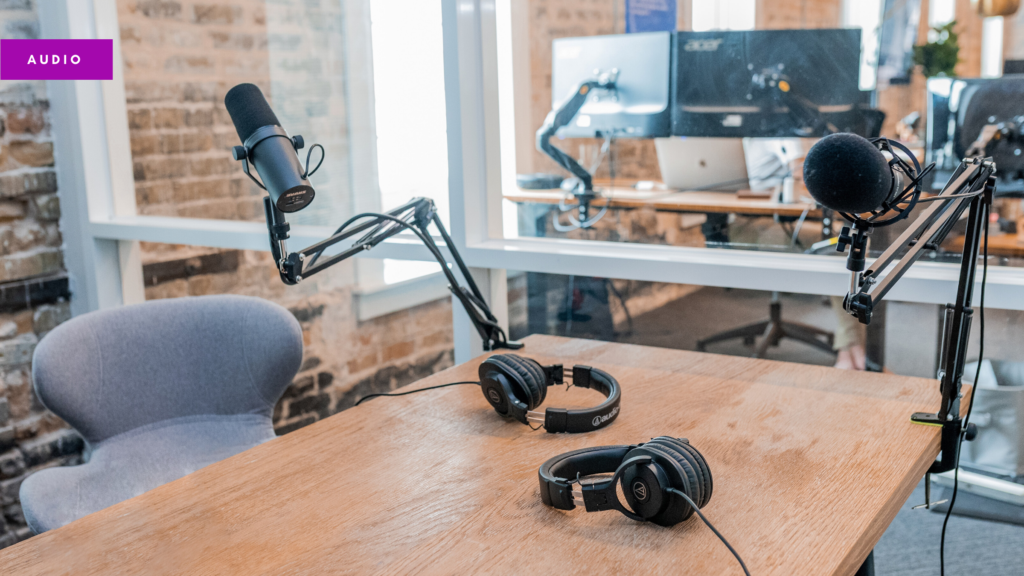 Podcasts have seen a boom in the numbers of listeners and downloads in the UK in the last few years and even more so in the past few months because of lockdown and the pandemic. However, the publishing industry is still not engaging with this medium fully and exploiting its maximum potential. So, if you are now thinking of adventuring into this new and exciting world, what are the skills that you will need to develop a podcast?
Market research: As for the development of any new product, when it comes to launching a podcast market research will be the starting point, in order to assess what is already available out there and brainstorm ideas. Listen as widely and eclectically as possible, and not only to publishing and bookish podcasts, but to episodes about any topics you may be interested in from business and politics, to music and art. That is because anything could become a source of inspiration to produce something original and unique: jot down what you like from all your favourite podcast series and try to incorporate those elements in the podcast you want to create for your specific audience. For example, why not use a similar interview format to Desert Island Discs but for books instead? Or draw inspiration from that show where they dissect the creative process behind a song with the artist, and apply that to a discussion around a recently-released novel with the author?
Project management: Whether you are producing a podcast as a shared effort in your company, or doing it independently in your spare time alongside another job, you will need project management skills to coordinate the different stages of production and distribution, and the various people helping you out (colleagues, collaborators or even just podcast guests). Publishers have a lot of experience in project managing the creation of a book from the editorial pitch to having the finished paperback in bookstores. This competence and knowledge can be transferred into producing digital products as well, including podcasts.
Content creation: Podcasts are truly multimedia products so the content creation for a podcast will include: title, format, cover artwork, episode script or structure, audio recordings, show notes and promotional materials. As highlighted earlier, it is important to be innovative and produce something unique in order to find your own niche audience. It is fine to take inspiration and learn from your market research findings, but you should always attempt to present and implement them from a different angle, which makes your personal voice stand out, or your brand values, in the case of a company podcast. This free course on FutureLearn is a great resource to learn more about content creation for podcasting.
Audio editing: Many publishers will rightly choose to use expert radio producers to record and edit their episodes, in order to have the highest sound quality possible. If your budget for this project won't allow it or you're self-producing the podcast on your own as a side hustle, you can use a free digital audio editor and recording software (such as the open-source Audacity or GarageBand for Mac users), and learn the basic editing techniques thanks to YouTube tutorials, like this one.
Online marketing: After investing time and money into your podcast, you will want to promote it across different platforms. It makes sense to announce it on industry specific magazines, like The Bookseller. However, as podcasts are digital products generally loved by tech-savvy individuals, other places where you'll likely find your audience are social media like Twitter, Facebook, Instagram and LinkedIn, depending on the topics you cover. Many publishers will have in-house designers and access to InDesign to produce cover art and marketing materials like e-graphics or short animated videos. Alternatively, you can experiment with free graphic design tools like Canva and Headliner. Always remember to make sure that your graphic style and social media voice is consistent with your personal/business brand and across the different platforms.
Using all these skills for only one project may seem overwhelming, but as a publishing professional you'll have already developed many of them in your day-to-day job and it could be a good opportunity to learn as you go and develop your knowledge even further. So why not give it a go?
Bio:
Flavia Marcocci studied Management of Innovation in Rome and Digital Publishing at Oxford Brookes University. For the past couple of years she has worked in the book industry in Digital Marketing and Metadata roles. In her spare time she produces and hosts the interview podcast Publishing Insight.