Edinburgh Book Festival announces conference to commemorate that one time authors were snide to one another
The Edinburgh International Book Festival has announced that as part of this year's programme it will host the first event in what is hoped will prove to be a series of conferences around the world. The Edinburgh World Writers' Conference 2012-13 will take place over five days during the Scottish capital's annual celebration of all things literary this coming August. Full details of the programme have yet to be revealed, but organisers hope to attract authors from all over the world to debate the role that writing plays in modern life.
Inevitably, to make sure you don't forget for a second we're in 2012 and this is what it's come to (or, to put it their way, 'in an exciting contemporary twist'), proceedings will be streamed online and interaction from viewers encouraged via social media. Authors: notice has been served and you have been suitably forewarned. Better start thinking up witty answers to 'where do you get your ideas from?'
Organisers say the inspiration for the event came from the realisation that 2012 marks the 50th anniversary of the Edinburgh Festival Writer's Conference of 1962, which brought the likes of Norman Mailer, Henry Miller and William S Burroughs to the city to argue about the state of literature with Scottish writers.
More famously, however – and more deliciously entertainingly – it was also home to a legendary war of words between notoriously cantankerous poet of the Scots tongue Hugh MacDiarmid and the forward thinking internationalist beatnik Alexander Trocchi, most famous for having written Young Adam. MacDiarmid denounced Trocchi as 'cosmopolitan scum', a euphemism for 'bisexual junkie' (which was technically true, but you don't have to say it like that, Shug). Trocchi responded, in the words of academic and critic Douglas Gifford, by claiming 'to have changed Scottish literature more than MacDiarmid himself,' which was a display of remarkable foresight from a man whose work was largely ignored by the literary establishment until after his death in 1984.
When the website for the 2012 conference says 'several authors almost came to blows' at the '62 summit, that's putting it mildly. Whilst it's unlikely that temperatures will run that high at this year's event, just think: the encouragement of audience interaction might mean you finally have a legitimate excuse to punch the smug off Jonathan Franzen's face.
---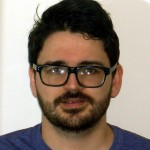 Chris Ward
Chris Ward writes and says things about books and music and films and what have you, even when no one is reading or listening.
He was chief hack and music editor of webzine
Brazen
from 2006 to 2010, and hosted
Left of the Dial
on Subcity Radio from 2008 to 2011.
He can be heard semi-regularly on the podcast of Scottish cultural blog Scots Whay Hae ('20th best website in Scotland!' - The List), and in 2011 founded
Seen Your Video
, a film and music podcast and blog based in Glasgow. He has a Masters degree in Scottish Literature from the University of Glasgow that will never have any practical application. You are on a hiding to nothing if you follow him on Twitter expecting any kind of hot publishing scoop.
Follow @iamchrishello
---