The next 5 years of publishing: Jasmin Kirkbride interview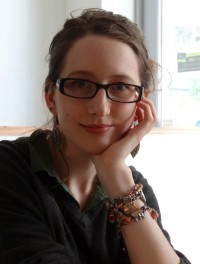 On the 8th June we're launching the third title in the Snapshots series, BookMachine on publishing: the next 5 years, with a free event in four cities. Here Allison Williams interviews one of our speakers from the London event, Jasmin Kirkbride on current publishing trends and predictions.
1) What are current trends and predictions that excite you most about the future of the publishing industry?
I am so in love with crowd funding right now. It's so brilliant: not only is it basically completely financially stable for the publisher and the author, it also increases the diversity of what's getting published. By bringing print runs down and securing sales before the book even hits the shelves, it very low-risk in what are still quite uncertain times. But whilst being low-risk, crowdfunding actually also allows for the publication of interesting, diverse, unusual books that traditional publishing models would see as incredibly risky. It allows readers from so many more little niches to get stories that they'll really love, and uncovers some real hidden gems. Getting this level of connectivity and support is using the internet to its best advantage.
In a similar vein, it's also intriguing watching how many publishers are picking up really popular books from self-published and not traditionally published authors – whether through Wattpad or Amazon or whatever. I think we'll see a lot more of this in the future. Though I wouldn't say I'm excited by it, I think it'll be fun to watch how that plays out in the long run.
2) What is the trend or prediction that scares you most about the future of the publishing industry?
There's a lot of challenging stuff ahead, but I think virtual reality (VR) could be the next thing that really affects the industry in a scary way. It's just about to start coming into its own, and I think it's a much more immediate problem than something like AI.
3) How do you think we can best combat that trend or prediction?
I think this will really affect trade fiction a lot more than any other market, so I'll focus on that. We need to remember what we do best, what fiction books offer that nothing else can. The beauty of a book is that, if it's well-written, it can transport the reader into someone else's shoes absolutely. Whether they're picking up Fifty Shades or the next Man Booker winner, I really believe that somewhere in their reading experience, amongst other things, people are seeking out that feeling of frisson. That is the thing we will have over VR, but in order to be competitive, we have to keep up our editorial standards, our understanding of what the readership is seeking, and how to communicate with them.
4) What is one thing you'd like to see the publishing industry start doing in the next 5 years?
Look at the environment more. We have a lot of short term issues that we face as an industry and I'm not belittling those, they're important. Actually, a lot of them – like diversity – have underlying causes and tensions that are really interconnected with environmental concerns. But we need to have a lot more meaningful discussions about our impact on the environment, and start actioning those quickly and effectively. It's clear from the Paris Agreement that politicians aren't going to put the pressure on industries enough for us to up our game before cause a complete catastrophe, so we've got to learn to put that pressure on ourselves. When the agreement was read out, a number of the African politicians just got up and left, because it was an ecological death sentence for their respective countries. We're already seeing the first climate refugees. You know, we've got to look at our industry's part in that.
5) Can you give us a sneak peek of the 'snapshot' of the industry that you will be sharing with us at the launch?
Keep calm and lobster on.
Grab your free ticket for the launch of Snapshots III here.