Course overview
In this course, we'll take an in-depth look at TikTok as a marketing tool for publishers. The course will be split into two areas: organic activity and advertising on TikTok. It will feature an overview of the platform's core audience and demographics, an in-depth exploration of the kind of content you can create and best practices, as well as a deep dive into BookTok and the emerging influencers that can amplify your titles and imprint.
It will also feature practical examples and case studies from a variety of brands throughout. We'll look at publishing and non-publishing brands successfully creating a splash on TikTok to inspire you to create engaging content that will promote your titles in a whole new way!
Course outcomes:
Understand the basics of marketing on the TikTok platform.
Learn the best practices for creating both paid and organic content, specifically for paid advertising and working with influencers.
Get inspired with examples from brands and publishers using the platform to inform your campaigns.
Navigate the TikTok ads platform and become familiar with how it works.
Understand how to set up your ads, repurpose existing content and create authentic ads that resonate with your audience.
Who is this course for?
Marketers who are familiar with the TikTok from the user side, but are looking to incorporate the platform into their marketing campaigns.
Marketers who are hoping to reach new audiences in 2022, in particular younger generations of readers, and are looking for the practical tools to get started.
Publishing hopefuls who would like to learn more about this growing area of the online book community and how marketers can think about tapping into the platform.
Your Course Leader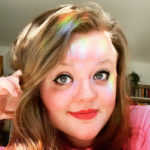 Rachel is a freelance publishing professional with over eight years of experience and a passion for commercial fiction and non-fiction, digital marketing and most importantly, cats. Previously in-house at HarperCollins UK developing award-winning marketing campaigns across trade fiction and reference (as well as tweeting memes from HarperVoyager), she now works across publishers with previous clients including Canongate, Hachette, Penguin Random House, Bloomsbury, HarperCollins and several independent publishers.
Follow Rachel on Twitter @rachelmayquin and Instagram @rachelquinmarketing
Visit Rachel's website www.rachelquin.com
Testimonials
'Working with Rachel has been absolute joy. I knew our marketing was in the best hands and her support has been invaluable. Organised and efficient with a creative and innovative flair, she is an asset to any campaign.'

Charlotte Ledger, Publishing Director, One More Chapter
'Rachel joined our high-performing, fast-paced marketing division seamlessly. She provided invaluable support, expertise and guidance to all members of our team and found ways of working with everyone. She has the perfect balance of creativity and data-led decision making; she's equally comfortable with authors and is responsive, respectful and full of positivity. I'd hire her in a second.'

Alex Cowan, Marketing Director, HarperCollins Children's Books
About Instructor
Login
Accessing this course requires a login. Please enter your credentials below!