'Publishers are important,' Val McDermid tells room full of publishers
Crime author Val McDermid has affirmed her belief in the importance of publishers to the overall quality of an author's work. Speaking at a joint meeting of the All Party Parliamentary Writers Group and the All Party Parliamentary Publishers Group earlier in the week, McDermid busted out her most crowdpleasing material (well, you would in those circumstances, wouldn't you?), telling the assemblage that publishers remain a necessity in the age of self-publishing to make sure the finished products are 'the best they can be.'
Talking to Ursula McKenzie – c.e.o. of Little, Brown, McDermid's own publishers, and so consequently the last person to whom she would be likely to say 'you know who I just cannot stand? Publishers' – McDermid also praised the marketers and sales teams within the industry for 'putting the book in the hands of the people who will most enjoy reading it', and further made clear the need for publishers to protect their authors from piracy in the digital realm.
McKenzie herself, as part of the same conversation, unsurprisingly agreed, calling digital self-publishing 'wonderful in many ways' but going on to say: 'If you want to reach the widest possible audience, if you're ambitious for your writing, you need to be able to get your book out through multiple channels, and that is where I have anxiety on all our behalfs, the pressure on high street bookshops, as they are so important to getting books to readers'.
The All Party Parliamentary Writer's Group was set up in 2007 with three specific aims in Parliament: representing writers' interests, safeguarding writers' intellectual property rights and making sure writers' contributions to society are recognised and rewarded. Obviously the landscape has changed somewhat for writers and publishers since 2007, making the group's job even harder, particularly regarding those latter two aims. It is currently campaigning to ensure that whilst access to creative works is made easier than ever before, those who create said works are fairly recompensed for their efforts.
---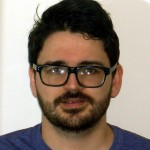 Chris Ward
Chris Ward writes and says things about books and music and films and what have you, even when no one is reading or listening.
He was chief hack and music editor of webzine
Brazen
from 2006 to 2010, and hosted
Left of the Dial
on Subcity Radio from 2008 to 2011.
He can be heard semi-regularly on the podcast of Scottish cultural blog Scots Whay Hae ('20th best website in Scotland!' - The List), and in 2011 founded
Seen Your Video
, a film and music podcast and blog based in Glasgow. He has a Masters degree in Scottish Literature from the University of Glasgow that will never have any practical application. You are on a hiding to nothing if you follow him on Twitter expecting any kind of hot publishing scoop.
Follow @iamchrishello
---