Mills & Boon empower women everywhere with digital erotica relaunch
In our latest instalment of 'Fifty Shades of Grey, A-Hur-Hur-Hur': venerable pensioner stimulators Mills & Boon have relaunched 12 backlist short stories on their digital-only erotica line Spice, under the banner '12 shades of surrender'. Just in case you didn't quite get what they're going for there, the title of the campaign is backed by the copy 'Want more than Fifty Shades? Mills & Boon have the answer with 12 shades of surrender!' Subtle. Also, shoddy maths (12 < 50, Mills & Boon).
The titles themselves remain unaltered from their original forms, with no character names changed to variants of Grey or character motivations changed to resemble fan-fic knock-offs of Twilight, but the cover art across all 12 releases has been given a uniform, decidedly monochrome makeover, all classily suggestive images of curtains and corsets and, I don't know, some sort of bulging eye-mask?
Similarly, the 12 titles chosen for this particular push range from the kind of subtle sauce just vague enough to pass as a completely different kind of book – Chance of a Lifetime, The Envelope Incident, The Challenge – to dispatches from wherever it is that innuendo goes to die: Going Down, Taking Her Boss, Taste of Pleasure.
Anyone worried, however, that Mills & Boon are about to lose their unique scent of Fixodent, boiled cabbage and knitwear should take solace in the knowledge that the familiar, mildly bosom-fluttering titillation of your standard Mills & Boon title is going nowhere, as made plain in a statement from head of digital Tim Cooper: 'It is great to offer female readers the full range of content from soft romance through to erotica, so they can choose the right book for their mood.' So kind of like picking a teabag or something. A sexy, sexy teabag.
And female readers (who are, of course, the only readers who would ever want to read these silly little stories, while the men are off reading proper books and wearing smoking jackets and fezzes in the billiards room): know that Mills & Boon are doing all of this for you! Cooper continues: 'Erotica is becoming more mainstream and acceptable as we and others evolve our packaging to become less explicit and women become ever more empowered to read what they want to and enjoy.' So there you go, women – it's alright for you to read erotica now! No, really, it is! Go ahead and enjoy yourselves! A man said you could! Empowerment! Yay!
digital erotica, Fifty Shades of Grey, Mills & Boon
---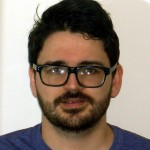 Chris Ward
Chris Ward writes and says things about books and music and films and what have you, even when no one is reading or listening.
He was chief hack and music editor of webzine
Brazen
from 2006 to 2010, and hosted
Left of the Dial
on Subcity Radio from 2008 to 2011.
He can be heard semi-regularly on the podcast of Scottish cultural blog Scots Whay Hae ('20th best website in Scotland!' - The List), and in 2011 founded
Seen Your Video
, a film and music podcast and blog based in Glasgow. He has a Masters degree in Scottish Literature from the University of Glasgow that will never have any practical application. You are on a hiding to nothing if you follow him on Twitter expecting any kind of hot publishing scoop.
Follow @iamchrishello
---