Reading For Pleasure Builds Empathy And Improves Well Being, New Research Finds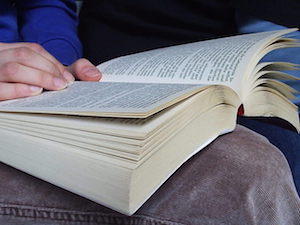 A recent report, carried out by The Reading Agency shows a positive correlation between reading for pleasure and increased empathy and improved relationships with others.
The report, entitled 'The impact of reading for pleasure and empowerment' surveys research from a range of age groups and as a result finds a number of benefits. These include improved social capital for children, young people and the general adult population; better parent-child communication and reduction of depression and dementia symptoms among adults.
Author Phillip Pullman is president of the Society of Authors, one of the organisations involved in the project, says: "I agree whole-heartedly with what this report is saying about the importance of reading for pleasure. When I write a story I hope to beguile, to enchant, to bewitch, to perform an act of magic on and with my readers' imaginations. The writer Samuel Johnson apparently didn't say this, but someone did, and it remains true: 'The true aim of writing is to enable the reader better to enjoy life, or better to endure it'."
Sue Wilkinson, chief executive of The Reading Agency, says: "The findings of this report have made for fascinating reading and we are very grateful to the Peter Sowerby Foundation for funding this work. At The Reading Agency we believe that everything changes when we read; this report identifies what that change looks like for different audiences. We are all looking forward to using the results to help us to plan the next stage of this ambitious programme of work."