Organisations to support in Black History Month UK 2021 (and beyond) if you work in books and publishing

We all know that Black History in Britain mustn't be confined to just one month – however, for some, Black History Month is an apt opportunity to highlight, celebrate and create waves of change within the UK when it comes to increasing equity for Black communities and improving our awareness of Black history – whether through our formal or personal education.
In book publishing, there is a pressing and continual need for us to accelerate this work, so we didn't want to let the significance of this month pass us by. To help you mark and celebrate this month with us, here are just some of the fantastic organisations, publishers, projects and initiatives in the UK that you can and should support throughout October and year-round.
Two of our features below are pioneering "firsts" in their fields, which is fantastic and should be celebrated. However, it also highlights how far there is to still go to bring more important and brilliant Black-led ventures into the publishing landscape.
Of course, this is in no way extensive or everything that is happening in books and publishing from Black British communities, publishers, authors and organisations – or those that support and/or offer creative spaces for Black writers and artists. If you have something planned for Black History Month UK or if you are planning to support other organisations and events in October, please do let us know in the comments of this post!
Hashtag BLAK in conversation event with Annabelle Steele, author of Being Amani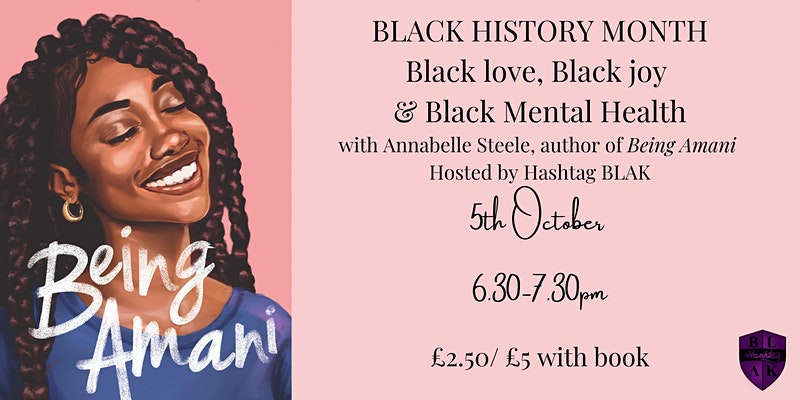 We had a great time attending Hashtag BLAK's special Black History Month virtual event on Tuesday 5th October with Being Amani author Annabelle Steele and Hashtag BLAK Co-Director Abiola Bello. Their conversation about the novel and its important themes of Black love, Black joy and Black mental health, as well as learning about Annabelle's journey to publication with Hashtag BLAK, was so illuminating – but also super relaxed and completely fun to listen to. We particularly loved the thought that went behind the cover and the considerations of the the pain that a smile can oftentimes exist in conjunction with, especially for young Black women. Another publisher might not have understood the significance of Amani's smile.
You can buy a copy of the book here.
Magazine publisher spotlight: Cocoa Boy and Cocoa Girl
Though not strictly book publishing, we'd love to spotlight two brilliant children's indie magazines that launched in 2020: Cocoa Boy and Cocoa Girl. Founder Serlina Boyd launched Cocoa Girl, the UK's first magazine to give Black children a voice whilst educating the community about the Black culture, before setting up Cocoa Boy shortly afterwards. Both Cocoa magazines are filled with inspiring and empowering content for children aged 7-11 years old. The importance of these publications is clear: they help to build a strong community for young Black children who are often misrepresented by mainstream media and act as an educational tool for their futures.
Buy Cocoa Girl and Cocoa Boy – they ship worldwide! – be sure to give them a follow on social media.
Formy Books are publishing two new books in October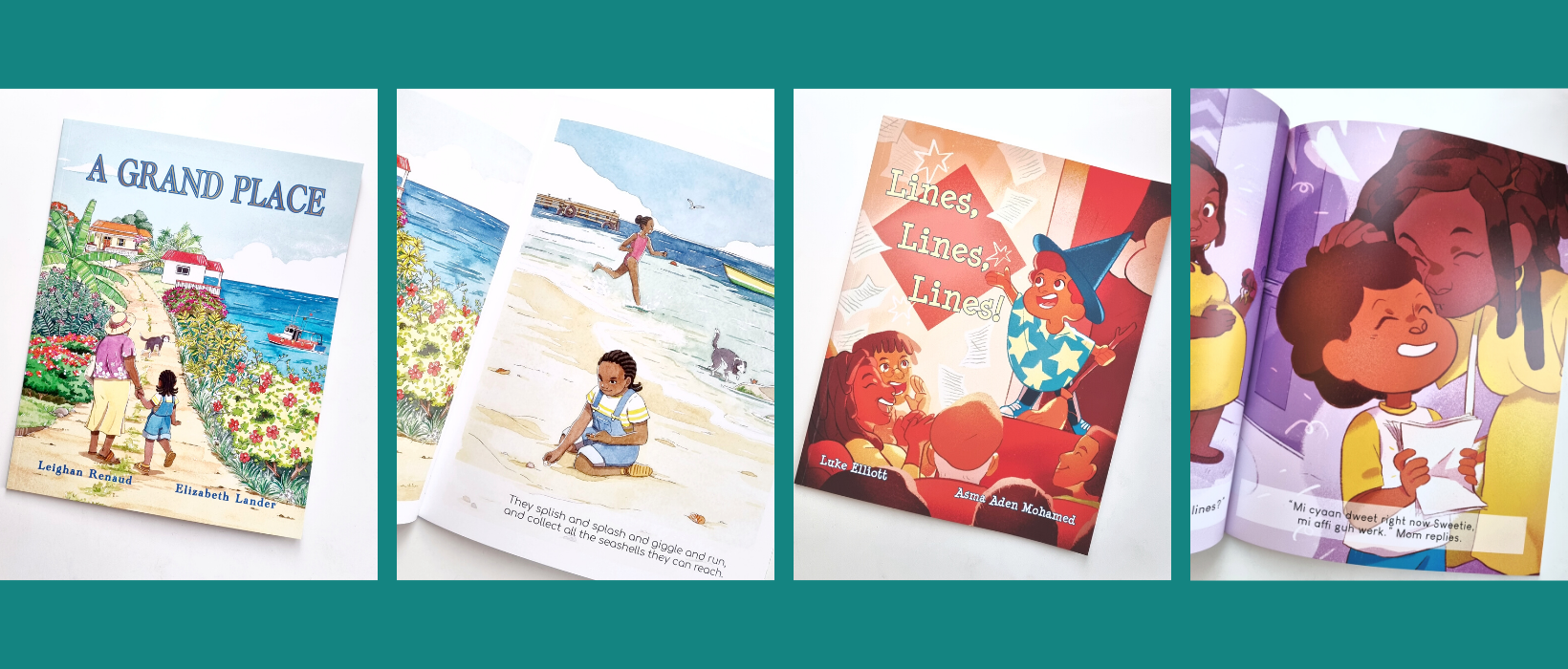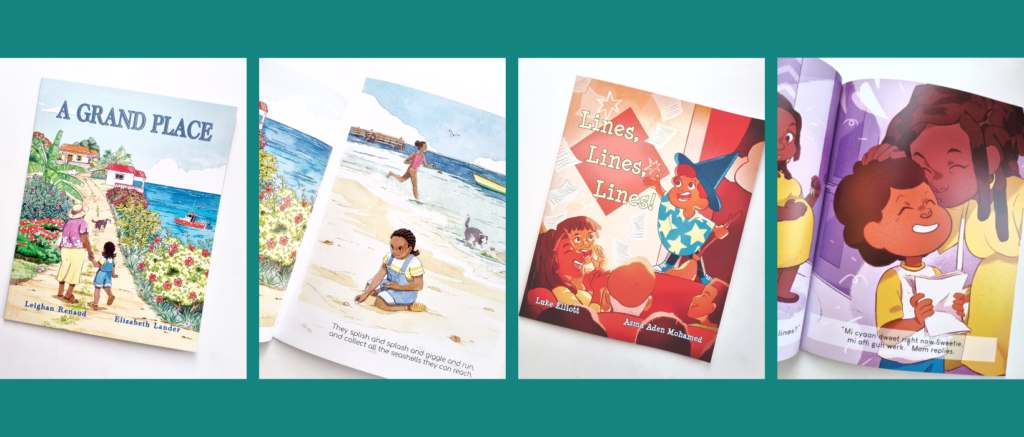 Formy Books, an independent family-run publisher, creating a diverse range of beautiful and inclusive children's books, are publishing two new books this month: A Grand Place (14th Oct) and Lines, Lines, Lines! (28th Oct).
A Grand Place follows Zora. While she waits for Grandma to return, she explores what it means to have a home away from home. A nostalgic love letter to Grenada is a joyful celebration of Caribbean culture.
Lines, Lines, Lines! is centres around Amari, who is excited to audition for the school play – but first he must learn his lines, lines, lines! Through a glowing sense of community and strong family ties, this book emphasises the importance of taking part and doing your best.
Formy's mission is to increase positive black representation across all genres in children's literature. They are passionate about platforming and amplifying black creative talent in publishing.
Black Ballad's First Digital Book Festival

Later on this month, Black Ballad, the leading media and data company for and by Black women in Britain and beyond is hosting its first-ever Book Festival (#BBBOOKFEST2021), which will celebrate and unite black female authors, readers and publishing professionals in their joint love of Black literature.
Taking place over three days from the 22nd – 24th October, the festival will feature "in conversation" interviews with Black women authors, panel talks with Black professionals working in the literary world, and author workshops for those looking to write their next book.
The lineup looks fantastic and so far includes Candice Carty Williams, Black Girls Book Club, Keisha The Sket author Jade LB, Merky Books editor Lemara Lindsey-Prince and legendary author Dorothy Koomson to name a few.
Passes start at £40, or you can go along to select sessions from £12. Get your ticket.
Support Afrori Books, Brighton's bookshop showcasing Black authors
Online bookseller, Afrori Books, is soon to be opening Brighton's first Black-led bookshop and safe community space through their partnership with the Lighthouse charity. Through the shop, Afrori will be able to offer a bigger platform for Black writers and books of Black origins. They are also planning to work with other charities, host open evenings for parents and teachers showing them how to integrate diverse books into children's lives and education and are committed to hiring those who might otherwise struggle to find employment. We're UK-based, so we can't wait to visit when the shop opens and support them in-person!
On Friday 1st October, they reached their fundraising milestone of £10,000 to create the physical shop which is incredible! But there is a little bit of time to still donate. You can read more about the bookshop and the team's mission here. You can also shop their book recommendations to celebrate and learn during Black History Month for Adults here and Children here.
(Afrori Books are also the official bookshop partner of the Black Ballad Book Festival!)
BONUS SEGMENT: Books to buy and articles to read