Publishers Love Audio: key highlights from the social media celebration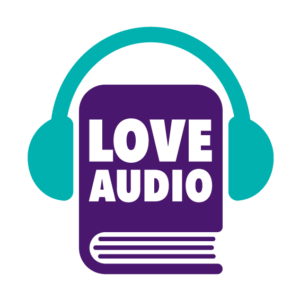 From Monday 11th June until Sunday 17th June, publishers across the UK shared their love for audiobooks during a week-long campaign titled Love Audio; an initiative of the Publishers Association. Whilst audio publishing continues to make headlines, the following publishers have been committed to audio for some time. Each publisher approached the #LoveAudio social media campaign differently but all with the same central aim – to spread awareness around this growing and engaging format.
"This was an absolutely fantastic week of celebrating audiobooks and it was wonderful to see so many publishers taking part with innovative and eye-catching (or should that be ear-catching?) ideas", says Sarah Shrubb, chairperson of the Audio Publishers Group at the Publishers Association and audio publisher at Little, Brown Book Group. "There is so much creativity, talent and passion in the industry, and it really shone during the week, so it's no surprise that the audiobook business is booming!"
Of the many publishers involved with Love Audio Week, fourteen audio publishers share their highlights from the week itself.
The Publishers Association
The PA is proud to support our members through this fantastic campaign to celebrate one of the fastest growing and most transformative sectors in publishing. Audiobooks are a vital format, allowing modern readers to fit more books into their day, whether running for the train in the morning or listening before bed. This is also exactly the kind of digital innovation that we need if we are to tackle this nation's literacy challenge. Our highlight was seeing thousands of people engage with the hashtag, which this year reached an audience of 10.3 million with a total of 38 million impressions.
Eliza Kavanagh, Campaigns Executive, the Publishers Association
Little, Brown Book Group
Little, Brown/Hachette Audio had a solid plan for #LoveAudio week. Several brand authors were on board to get involved in activity through the week. This included a number of authors answering quick fire questions about audio including Clare Macintosh, Wilfred Emmanuel-Jones and Michelle Morgan. Hachette Audio and Dialogue Books also released an exclusive clip from Dialogue's first ever audiobook One More Chance by Lucy Ayrton prior to publication. We also ran a competition across all Hachette divisions to win a UE Boom where listeners shared a photo of where they like to listen to audiobooks. Most excitingly of all, we released Michael Robotham's The Other Wife two weeks ahead of publication of the other formats with fantastic results, including an Editor's Pick on Audible, and it's remained in the Audible bestseller chart ever since.
Sophie Fegan, Head of Digital Marketing and Consumer Insight, Little, Brown Book Group
Listening Books
Our highlight from Love Audio week was a tweet that drew attention to Listening Books' partnership with the mental health charity Anxiety UK. It linked to a blog discussing how audiobooks can be beneficial when reading is difficult due to mental illnesses like anxiety. We're really pleased that this did well, as it was a vital part of our Love Audio week aim to promote audiobooks as a way to access books for anyone who finds it difficult to read print and reach out to people who may not have considered audiobooks before.
Abigail Jaggers, Membership and Marketing Assistant, Listening Books
Headline and Quercus
My highlight from #LoveAudio week came before all the activity kicked off, while we were busy gathering content to share. It was so exciting to see the enthusiasm and support from colleagues who were all itching to get behind the campaign. From 'reading while feeding' to James Oswald listening while driving his tractor, people gave us so many reasons for why they love audiobooks. We asked anyone who listened to audiobooks to come and take pictures for us with the #LoveAudio boards. We had so many people turn up that we ran out of paper after just 10 minutes!
Hannah Cawse, Editor, Audio, Headline and Quercus
Penguin Random House
My highlight of the week was realising just how much audio content we've built up over the past year. Puffin Books were sharing articles and videos every day that featured our audiobooks and authors who we've been working closely with in 2018, and it really highlighted the passion that so many people have for the format. We had a fantastic Q&A between author Robin Stevens and her narrator Katie Leung (who played Cho Chang in Harry Potter), a blog piece from one of the narrators of Little Leaders, and a number of lists suggesting some of our best listens for children. #LoveAudio week is such a brilliant way to showcase the breadth of what we all publish as well as the care and attention that goes into audiobooks. The fact that the same passion spans so many publishers is what makes it incredibly exciting.
Helena Sheffield, Marketing and Communications Manager, Penguin Random House Audio
Hodder & Stoughton
It's always lovely to see so much enthusiasm for audio in-house at Hachette, and the number of colleagues who shared why they #LoveAudio and how audiobooks fit into their lives was fantastic to see throughout the week. On a personal note, the announcement of our upcoming new audio edition of The Scarlet Pimpernel (one of my all-time favourite books), to be read by Julian Rhind-Tutt was a very special moment.
Ellie Wheeldon, Editor, Audio & Digital, Hodder & Stoughton
Bonnier Publishing
The highlight of our week was having Lynda LaPlante and her friend, actress and narrator Ann Mitchell appear on the Good Morning Britain sofa to discuss the release of Widows audiobook, paperback, ebook and film. Ann Mitchell appeared in the original TV adaptation for Widows in the 80s and has now narrated the unabridged audiobook.
Jon Watt, Head of Audio, Bonnier Publishing
Michael O'Mara Books
Following the launch of our new audiobook list in February 2018, we're excited to be supporting the Love Audio initiative. Throughout the week we offered our followers the chance to win an exclusive download of our audiobook titles, and we also launched our very own Soundcloud page where we'll be uploading clips of our current productions. Audiobooks are the fastest growing sector of the industry and we look forward to continuing to champion the audiobook.
Saskie Angenent, Head of Publicity and Bethany Carter, Publicity Assistant, Michael O'Mara Books
HarperCollins
We have had some HUGE audio goings on at HarperCollins…
The week kicked off with the fantastic news that the company's second audio original Gazza in Italy had charted at #1 on iTunes.
We launched audio-exclusive thriller DON'T YOU CRY by bestselling author Cass Green.
We announced our stellar line up of narrators for two forthcoming audio titles. Vanessa   Kirby (The Crown) is one of the high-profile actors taking on a new unabridged recording of Philippa Gregory's Tudor novels, and Joanne Froggatt (Downton Abbey) will narrate Adele  Parks' upcoming thriller for HQ.
AND we've been celebrating and showcasing our new Google Assistant product StoryCastle,            a world of magical classic storytelling for listeners, bringing the very best of Children's             writing to life in a fun and immersive way.
Now time for a lie down!
Rachel Mallender, Group Audio Director, HarperCollins
Bolinda
Love Audio week has been a great opportunity for us to spread our love of audiobooks and it was great to see our libraries engaging with Love Audio both online and in their libraries.  They put together some amazing displays and shared their audiobook recommendations on social media.  Our highlight of Love Audio week was hearing actor and narrator Russell Tovey's insight into what it's like to narrate an audiobook and why he loves audio.
Charlotte Parr, Marketing and Content Executive, Bolinda
Macmillan
Our highlight from Twitter took advantage of the recent TV success of Patrick Melrose on Sky Atlantic and drew attention to the audio edition of the books read by Alex Jennings and included a free sample. The tweet had a potential reach of 60.4k. Our most popular Facebook post was by author Natasha Devon who blogged about her experience reading the audio edition of her book and included a sample of the audiobook as well.
Rebecca Lloyd, Publishing Director, Audio, Pan Macmillan
Faber & Faber
It was lovely that Love Audio shared Jeremy Irons reading 'The Love Song of J. Alfred Prufrock'. 100 years after it was originally published, Eliot's examination of the tortured psyche of the prototypical modern man continues to strike a chord. Through audio and the velvet tones of Jeremy Irons, it is fantastic that the poetry of Eliot can be heard and appreciated in a new light.
Catherine Daly, Audio Editor, Faber & Faber
Simon & Schuster
Our highlight from #LoveAudio week was recording The Words Podcast: on Audio at the BBC, a special episode to celebrate the rise and rise of the audiobook. Featuring an interview with #LoveAudio advocate Fionnuala Barrett, Downton Abbey actress Catherine Steadman who discussed and narrated her gripping 'audio first' debut Something in the Water, and to complete our audio tour, an extract from Child 44 by Tom Rob Smith which celebrates the 10th edition anniversary of his award-winning novel, read by the American actor – and narrator of over 100 audiobooks – Dennis Boutsikaris.
Dawn Burnett, Marketing Director, Simon & Schuster
W.F. Howes
As the UK's leading independent audiobook publisher, Love Audio week was a fantastic opportunity for W.F. Howes to spread awareness about audiobooks as a format in its retail and library channels. We teamed up with HarperCollins and West Sussex libraries to put on the first ever Love Audio event! Attendees had the opportunity to hear all about audio production from the viewpoint of our producers as well as a bestselling author (Katerina Diamond), and a professional actress (Antonia Beamish). We even gave members of the public a shot at narrating an audiobook themselves and listening back to the clip. To show how passionate we are about audio we also ran a series of blog posts, in which staff members discussed why they love working in audio, with each highlighting a different aspect of the audiobook process from editorial to production.
Dominic White, Head of Publishing & Commerce, W.F. Howes
For more information on the Love Audio Week campaign, and to get involved next year, please contact Eliza Kavanagh, Campaigns Executive at The Publishers Association.