Love Audio Week: Celebrating audio publishers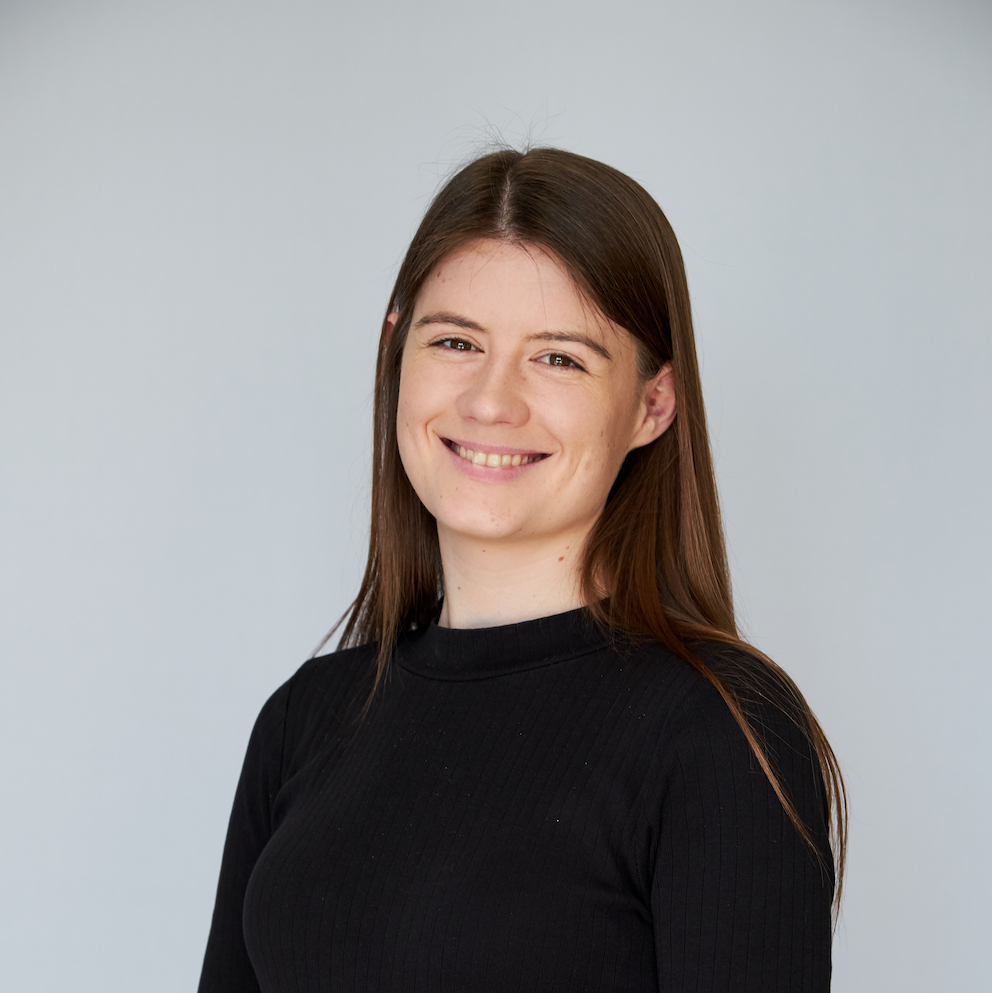 Eliza Kavanagh is Communications Manager at the Publishers Association and has managed the Love Audio campaign since its inception in 2017. Love Audio Week is an initiative of the Publishers Association's Audio Publishers Group.
In the three years that the Publishers Association has run this campaign on behalf of our Audio Publishers Group, the hashtag #LoveAudio has grown from a modest reach of 5 million over the course of Love Audio Week to this year reaching 26 million – an increase of 420%.
As an association, our goals for this campaign are threefold: to showcase the innovation and creativity driving this sector's exceptional growth; to inspire young people to consider a career in audio publishing; and to celebrate the role that this unique format plays in the lives of people with print-disabilities.
We #LoveAudio because it is driving growth and innovation in publishing
The audiobook sector is experiencing rapid growth, having doubled in the last five years, according to our latest PA Publishing Yearbook 2018 published today. In 2018 alone, publishers' total consumer audiobook sales income increased by 43% to £69m.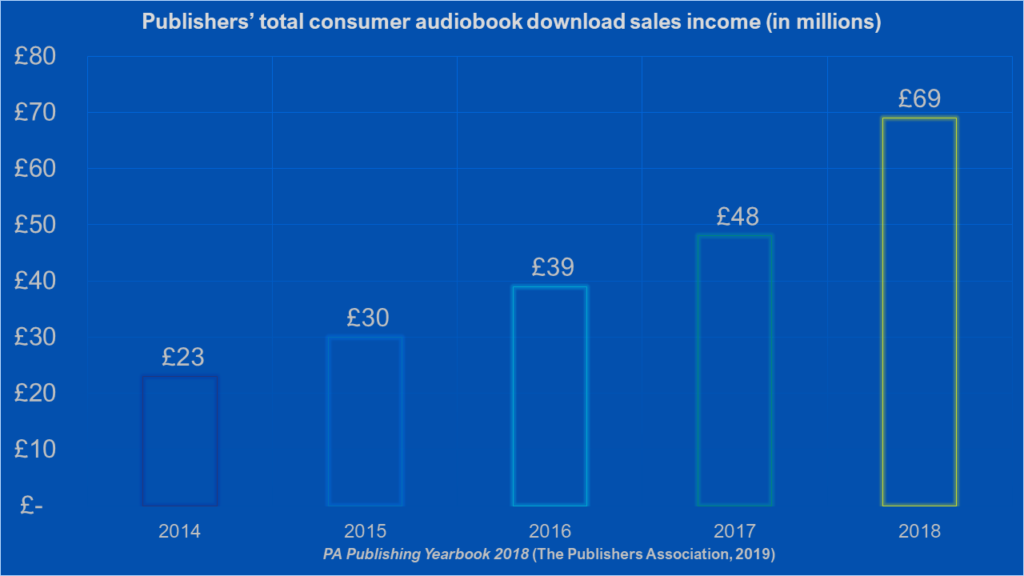 This development is thanks to the enthusiasm and talent of the sector, which is made up of a wide range of publishers, from independents (Michael O'Mara, Canongate and Faber & Faber) and specialist audio publishers (Creative Content, Bolinda, Spokenworld Audio, Strathmore Publishing and WF Howes) to large general publishers (Bonnier, Simon & Schuster, Pan Macmillan, Hachette, HarperCollins and Penguin Random House); from charities supporting print-disabled readers (RNIB and Listening Books) to university presses (Princeton University Press and Cambridge University Press).
It's thanks to their efforts that this year we saw tweets from high profile authors like Stephen Fry, Gary Barlow, Jacqueline Wilson, David Walliams, Clare Mackintosh, Elif ?afak and EL James, covering a breadth of genres, interests and topics.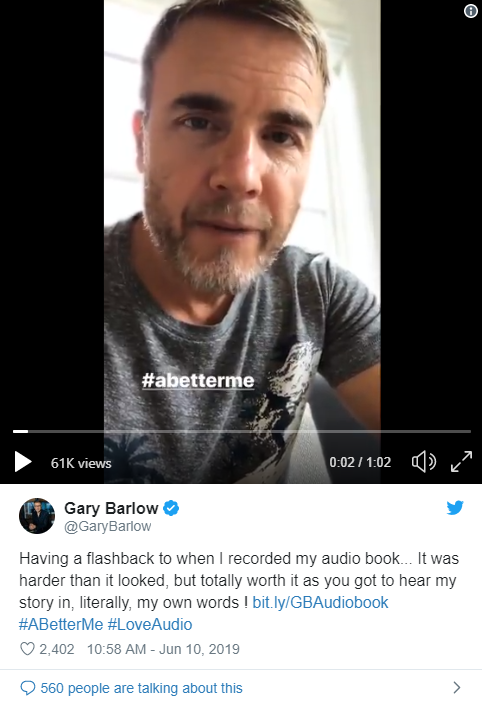 Having a flashback to when I recorded my audio book… It was harder than it looked, but totally worth it as you got to hear my story in, literally, my own words ! https://t.co/UwtJeqhzAO #ABetterMe #LoveAudio pic.twitter.com/vkHoYacVaH

— Gary Barlow (@GaryBarlow) June 10, 2019
We #LoveAudio because it's an exciting career path
We hosted our first ever Love Audio networking event this year and the evening was a resounding success with over 60 people attending to share their love of the format, either as an experienced professional or as someone wanting to break into the industry.
As the sector continues to grow, so will audio publishing departments, opening up a range of new career pathways for publishing talent. We were delighted to be able to connect the experience and knowledge of our audio publishers with the uninitiated and hope to do more events like this in the future.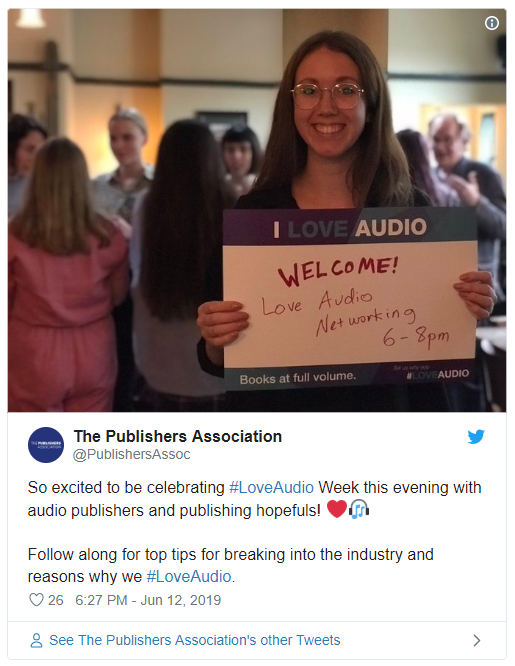 So excited to be celebrating #LoveAudio Week this evening with audio publishers and publishing hopefuls!

Follow along for top tips for breaking into the industry and reasons why we #LoveAudio. pic.twitter.com/U1fdaUJALN

— The Publishers Association (@PublishersAssoc) June 12, 2019
We #LoveAudio because it's an accessible format
As the growing availability of audiobooks opens up new markets and talent pipelines for publishers, it also provides a wonderful opportunity for readers with visual, physical or cognitive impairments that prevent them from reading print material to access mainstream published products where previously special versions (such as large print or braille) were the only option, often at great cost and after considerable delay.
Our membership includes two wonderful charities, RNIB and Listening Books, who provide a fantastic selection of high-quality audiobooks to tens of thousands of readers across the UK, and Love Audio Week provides a timely opportunity to celebrate the work that they do.
One of our favourite moments was this article by Listening Books member Katie Lawrence on how audiobooks helped her rediscover the joy of reading after being diagnosed with a chronic condition. Stephen Fry also used the hashtag to highlight the charity, of which he is a patron.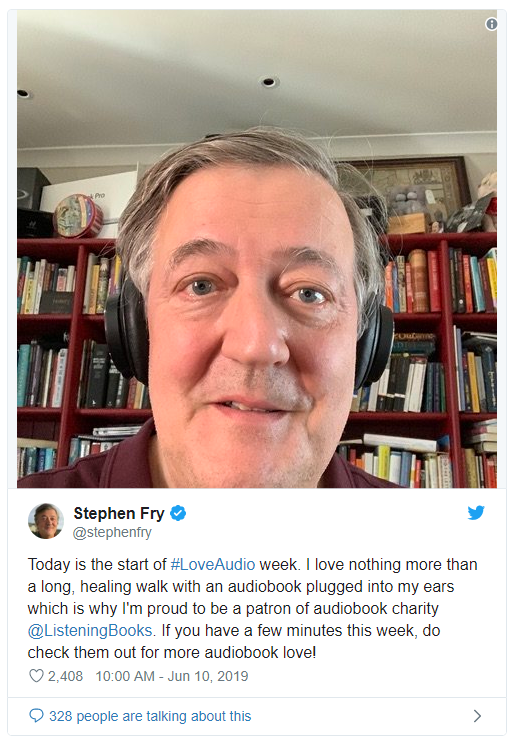 Today is the start of #LoveAudio week. I love nothing more than a long, healing walk with an audiobook plugged into my ears which is why I'm proud to be a patron of audiobook charity @ListeningBooks. If you have a few minutes this week, do check them out for more audiobook love! pic.twitter.com/0p9eeR205S

— Stephen Fry (@stephenfry) June 10, 2019
In summary, the audiobook sector represents everything we love about publishing – it's exciting, innovative, fun and friendly. We're incredibly grateful to all of our members whose efforts made this a successful campaign – watch this space for Love Audio 2020!
If you'd like to find out more about the Publishers Association's Audio Publisher's Group, you can contact Eliza by email at [email protected].