Virtual Event
Wednesday Wisdom: Live Interview with Rebecca Souster and Mia Lioni (Zebralution)
27 July @ 1:00 pm

-

1:30 pm

BST

Virtual Event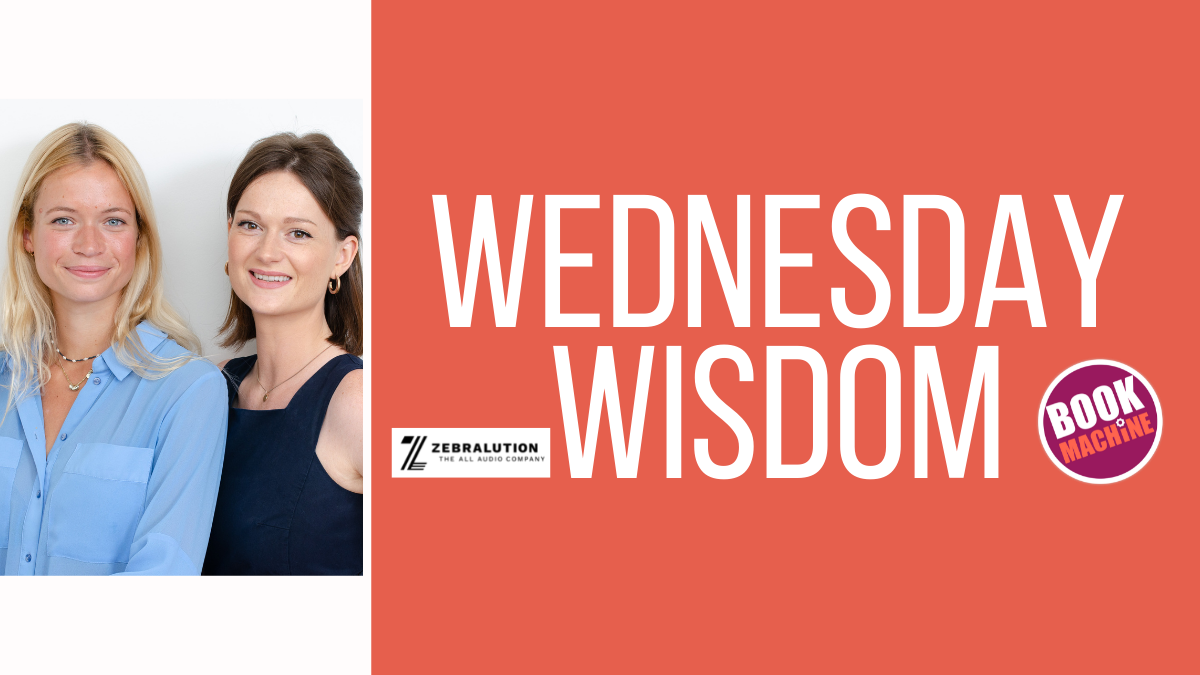 Tune in live to an exciting 30-minute Zoom Q&A on Wednesday 29th July from 1-1:30pm BST with Rebecca Souster, Head of English Language Content, and Mia Lioni, Junior Audiobook Manager, at Zebralution.
During the session, we'll be chatting all things audio. Learn how Zebralution works with publishers, pick up tips for successfully marketing and selling audiobooks, take a peek at the data behind commissioning and casting audiobooks, and find out how to target the right listeners for your content.
Plus, be sure to stick around for the last 10 minutes of the session, as we'll be opening up the floor to live audience questions.
Registration is required, so please sign up above to receive the Zoom link to tune in live.
*This session will have live closed captioning available for viewers to toggle on or off as needed*
About Wednesday Wisdom
The Wednesday Wisdom series is designed to give you a brief, inspiring insight into the working lives and projects of publishing experts, and the help you learn more about the services that can take you to the next level. On selected Wednesdays throughout the year, take a break and join us on Zoom for live these Q&As to top up your motivation and learn something new.
BookMachine members can browse 50+ Wednesday Wisdom replays in the archives and catch up with the recording of this session afterwards.
Want to take advantage of this member perk? Sign up to be part of the community.
---
About Rebecca
Rebecca (she/her) is Head of English Language Content and joined Zebralution in January, looking after UK, US and Benelux. Becca is responsible for content acquisition, publisher management and overall strategy across these markets. Before moving into audio, Rebecca was the CEO of a small digital publishing house in London, and also runs her own feminist non-fiction publishing house, Break the Habit Press.
Connect with Rebecca on LinkedIn
About Mia
Mia (she/her) joined Zebralution in April as Junior Audiobook Manager, and is responsible for the content management of Zebralution's English and Dutch audiobook content. As well as managing the distribution and marketing of audiobooks from publishers such as Scholastic, Pan Macmillan and Boldwood Books, Mia leads the curation and management of the lismio audiobook app and Spotify channels.
About Zebralution
Zebralution is a leading digital distributor of audio content, fiercely independent and ardently supportive of independent labels and publishers. We earned our stripes in the music industry and, in 2010, used our reputation and expertise to develop a new market for publishers by optimising audiobooks for music streaming services, exposing a new form of audio content to a whole new world of voracious listeners.
Related Events