Roca Editorial discuss ebook strategies [INTERVIEW]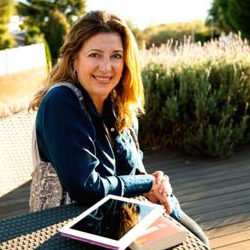 This is an interview with Blanca Rosa Roca, speaker at BookMachine Barcelona on 26th February. Blanca (@RocaEditorial) is the founder and director of Roca Editorial, set up  in 2003, by five professionals with substantial experience of publishing. Here Maria Cardona (@mmcardona) finds out more about the publishing house.
1. Roca is a medium-sized Spanish publishing house with a particularly strong digital presence. What are you planning at the moment, and what do you foresee happening in the near future?
Like other Spanish publishers, we have been affected by the recession. However, although sales of print books are down, we have witnessed double-digit year-on-year growth in digital revenues.
I think this year will be better for us and for the industry as a whole – we have already hit the bottom, the only way is up! The industry has predicted a plateau in digital sales, but we think there's still progress to be made.
2. Not long ago you launched a digital imprint, Ciudad de libros. Before that you launched Barcelona Ebooks. Why did you launch these imprints? What does it mean for Roca to be partners with Open Road Media?
As a small/medium-sized company it is important to form partnerships in order to grow. In Spain and Latin America we have a distribution agreement PRH. On the digital side, we have a contract with Open Road Media for Barcelona-based novels that we translate into English. We also publish Noah Gordon in English. It was due to the that success that we decided to launch Ciudad de libros, an imprint which publishes books that weren't available in digital format. The problem we face is converting and scanning the books, which can still be quite expensive in relation to sales. However, working on the project has been fantastic and we've developed a brilliant website and online marketing around the brand.
3. At the Digital Conference in Barbastro (Spain), you said that 25% of your profits come from ebooks. What have you been doing that makes you stand out so much from the rest of the Spanish publishing industry?
Right from the start we focussed on the digital market. We have a team of 16 people working at Roca. We all sell and promote our books online and 5 of our team are fully dedicated to digital.
4. What are your thoughts on the Spanish publishing industry, and it's relationship with digital publishing?
The press are overly-critical of the industry, and the Spanish government aren't supportive. Culture just isn't seen to be a priority to policy-makers. This is why we, the publishing houses of Spain, have to do whatever it takes regardless of the VAT issues, limits on selling books from libraries and the high levels of piracy. To do this, we need a strong network of bookshops to help make reading sexy again – as we're now competing against other content that may be seem more appealing to readers. Digital publishing, or the publication of ebooks has not been successful, as many publishers have avoided it due to the high piracy rates. As I said before though, I still believe there's a huge potential in this area. We need to protect our business models, there are many alternatives, such as subscription services – and these all need careful analysis.
5. Where do you see Roca and Ciudad de Libros in 5 years time?
We're re-designing our website to bring all the imprints into one place. The new site will be better optimised for SEO and social media and built in an HTML5 template, which is totally responsive for mobile reading. Our goal is to sell ebooks directly to consumers through the website and this will make it easier for readers to access our titles in one click. We will continue to grow our list, finding new trends and searching for new titles that keep our readers hooked.