Writers plan protest ahead of Trump inauguration day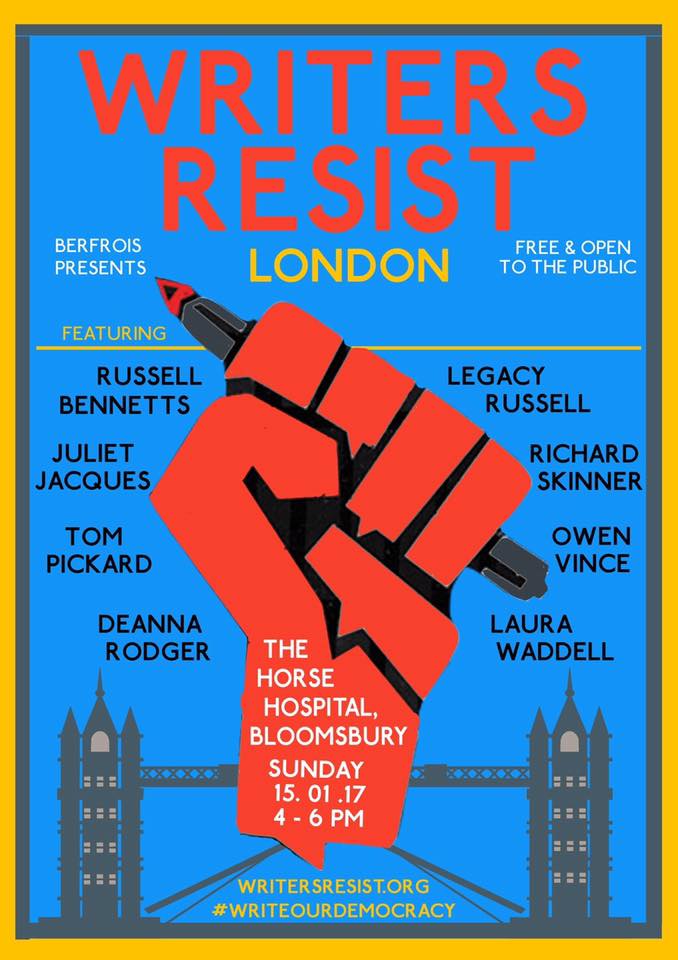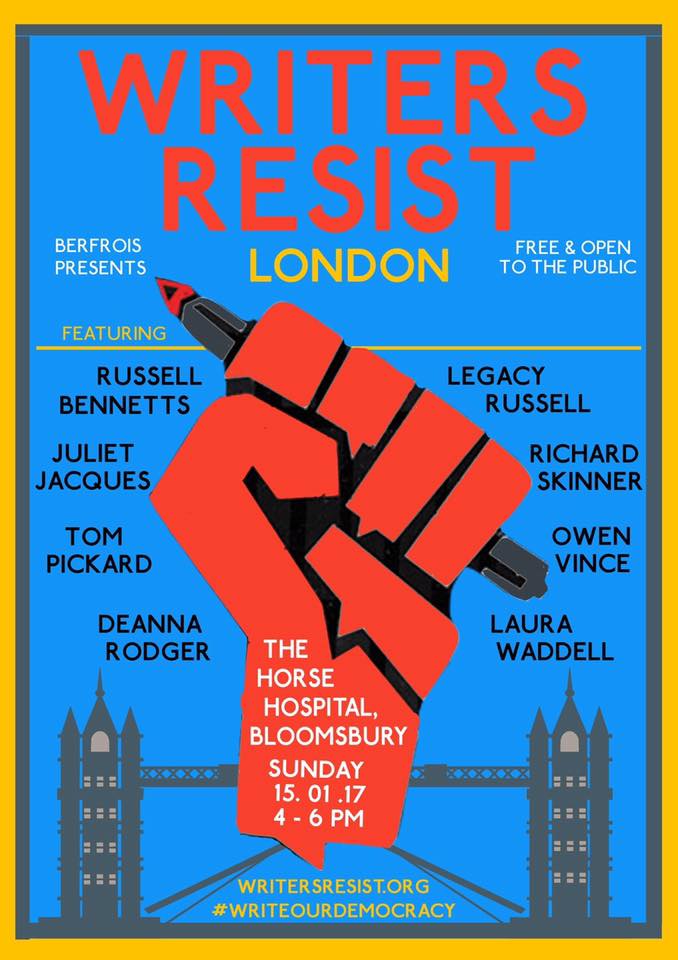 Writers Resist London will take place at:
The Horse Hospital, Bloomsbury
Sunday 15th January, 2017 4-6PM
Free event, all welcome
Writers Resist London will join over 50 cities worldwide in reaffirming a commitment to a tolerant and diverse society through panel discussion and poetry readings from literary voices.
A flagship New York City event co-sponsored by PEN America is joined by additional events in Boston, Los Angeles, Oakland, Austin, Portland, Omaha, Seattle, London, Zurich, Hong Kong and more.
Readings by Tom Pickard, Cathy Dreyer, Richard Skinner and Owen Vince.
Panel discussion with Juliet Jacques, Legacy Russell and Laura Waddell.
Our democracy is at risk. Growing public cynicism and an alarming disdain for truthfulness is eroding our most dearly held democratic ideals. Writers have tremendous power to bypass empty political discourse and focus public attention on the ideals of a free, just, and compassionate society.
Russell Bennets, organiser:
"Five days before the inauguration of Donald Trump, writers and readers are gathering worldwide to protest any slide into fascism by the United States."
Legacy Russell, writer:
"It's an important time in history, a time where the strategic visibility of collective resistance and determined dissent is essential in the face of sexism, racism, homophobia – these things are the bedrock of fascism, and silence is consent."
Laura Waddell, writer:
"As Trump takes office in just a few days and the UK faces its own crisis in the wake of Brexit, the need to stand up for free expression and human rights becomes increasingly pressing."
More about Writers Resist
Writers Resist is a national network of writers driven to defend the ideals of a free, just and compassionate democratic society. The movement rapidly coalesced after poet, Erin Belieu, posted on Facebook, "We will not give in to despair. We will come together and actively help make the world we want to live in. We are bowed, but we are not broken."