Grown-up party
Meetings are an essential aspect of our professional lives. So much so that when I overheard my then three-year-old daughter Stella advising her dolls that they were going to have a "Grown-Up Party", complete with "all the things grown-ups like: beer, tools, and meetings", I laughed but wasn't surprised. "Out of the mouths of babes" and all that. Clearly, little Stella had often overheard Mom and Dad speaking about their various meetings. Surely something that grown-ups do that often must be fun! From my own experience as the Creative Director of Oxford University Press, I know that many of us in the management team were double- and triple-booked with meetings all day long; it became a sort of badge of honour.
Enter the pandemic, and things went from bad to worse.
The remote work model increased weekly meeting time by 10%, resulting in three additional meetings per week per employee.
All these meetings cause a decrease in productive hours and energy. Attendees are aware of this, and many try to multitask during meetings, checking email, and reading materials unrelated to the meeting they are attending! This is a waste of everybody's time. Surely there is a better way!
Reduce + Reconsider + Refine
If you want to get some of your productive hours back, the first thing you should do is evaluate the meetings you currently have. Below is a sure-fire method to eliminate them, reduce their frequency, or, at the very least, improve the meeting itself. There are numerous alternatives to meetings. The answer to every professional issue need not be to schedule a meeting.
Meeting Audit
Start by conducting a meeting audit to determine if the currently scheduled meetings are necessary.
Step 1: What kind of meetings do I have scheduled?
It is good to keep the three different meeting types in mind when evaluating your meetings.
INFORMATIONAL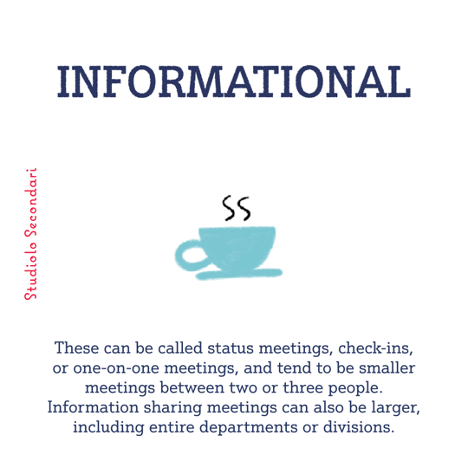 Information-sharing meetings: These can be called status meetings, check-ins, or one-on-one meetings, and tend to be smaller meetings between two or three people. Information-sharing meetings can also be larger, including entire departments or divisions.
Most of the time, information-sharing meetings can be eliminated, or their frequency can be reduced. Information can be efficiently shared by a written report, dashboard-type status trackers, asynchronous communication, or email.
COLLABORATIVE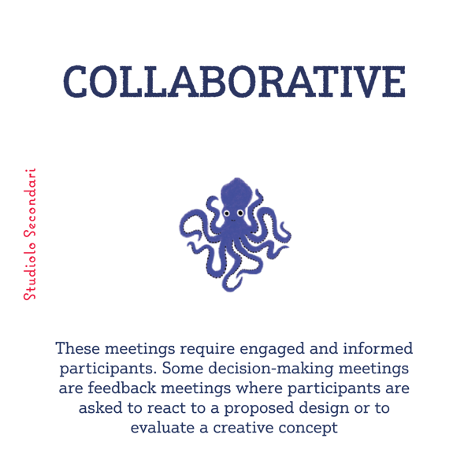 Collaborative meetings: These might be described as "brainstorming sessions" or "blue sky". These meetings involve various participants, including a facilitator (highly recommended), and the goal is to develop a creative solution for a problem. These meetings benefit from real-time engagement from the participants, virtually or in-person.
DECISION-MAKING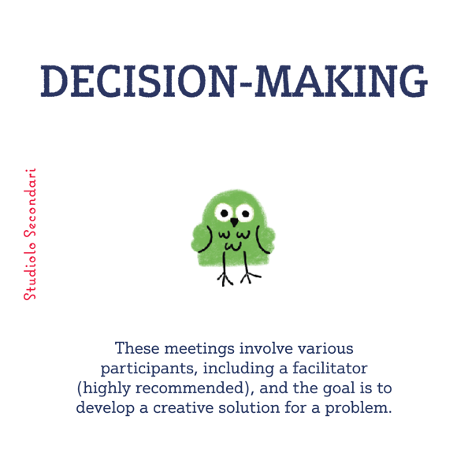 Decision-making meetings: These meetings require engaged and informed participants. Typically there is a time element involved in the decision-making process as well. Sometimes decision-making meetings are preceded by informational meetings. Although the decision-making meeting benefits from real-time engagement, the preliminary informational meetings can almost always be handled asynchronously. Some decision-making meetings are feedback meetings where participants are asked to react to a proposed design or to evaluate a creative concept; in this case, the objective may be met by other means (i.e., sending an email, posting information, sending a survey).
Once you know what kind of meetings you have, you will be better able to determine which can be eliminated, reduced in frequency, or re-envisioned as asynchronous communications.
Ana María Rodríguez, Global Client Solutions Manager at LinkedIn, shared that reducing the cadence for status meetings, especially those that don't result in action items, and replacing them with tracker reports is a great way to decrease meeting congestion.
Step 2: Is the meeting well organised and effective?
Does the meeting have a goal or intent? Is there an agenda? Does the intent require a conversation in real-time to make progress?
If the answer to these questions is "no", then you should definitely consider cancelling or opting out of this meeting.
Ineffective meetings make professionals lose 31 hours every month, which sums up to 4 working days a year.
People schedule meetings for many legitimate reasons, and some not so legit. The physical distance imposed during the pandemic surely made the prospect of meeting with colleagues via Zoom a welcome distraction, and, understandably, the number of meetings increased during that period. As we emerge from our COVID limitations, let's consider our productivity and take some of our time back. Not meeting is not a rejection of your colleagues, nor does it imply the meeting subject is unworthy of your time. Ensuring that we approach problem-solving effectively, deploying tools appropriately to a challenge is a sign of respect for your time and that of your fellow attendees.
Let's all remember: scheduling a meeting is easy, running a productive meeting is a skill.
If you think this information is helpful, please feel free to share with a colleague. You might also want to consider my three-part workshop "A Pandemic of Meetings: How to Reduce, Reconsider, + Refine your Meetings".

Linda Secondari is the Founder and Principal of Studiolo Secondari. Linda has an extensive background in publishing, most recently as the Creative Director for Oxford University Press. Her time working in publishing instilled in her the belief that through using intelligent design strategy and inspiring design solutions, we can improve the world through better communication.
Linda is a firm believer that design goes far beyond appealing book covers. Design Thinking (DT) and Organizational Design (OD) profoundly impact the way businesses do work, which has a knock-on effect on the lives of employees as well as the engagement of their audiences. By using DT and OD concepts, Linda helps businesses address challenges – like hybrid working environments for creative teams and managing the 'pandemic of meetings' – as well as develop empathetic solutions. She also makes a mean puttanesca.