Interview with Claire Morrison, Deputy Marketing Director, DK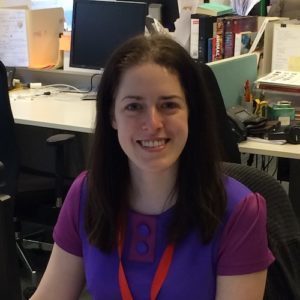 Claire Morrison oversees the marketing strategy for licensing, children's and travel books as well as being instrumental in implementing DK's metadata and video strategies. During her 14 years in book publishing she has worked at Vintage, Headline, Pan Macmillan and Quercus and won numerous awards. She's currently a mentor for Creative Access. Follow Claire on Twitter: @novelmarketing
1. You're a mentor for Creative Access. What advice do you give participants that you wish you'd known when you were younger?
This is a difficult question as when I'm mentoring I react to what my mentee needs or use coaching techniques to help them discover their own answers, therefore any advice is very personalised. I've been working with my mentee for nearly a year and what we've both found most useful is sharing our experiences. I've been learning as much as – I hope – she has. However, things I wish I'd know known are numerous! If I had to pick it would be: once you've had your first job, make sure that any new company you move to has the right culture and atmosphere for you. You have to like them as much as they like you. Formulate a question that will give you the information you need to work out if the fit is right for you. The other thing is to learn when you are really ready for a step up. Don't worry about how long you've been in a role and try not to compare yourself to others (it's very hard and I still do it!). We are all on our own path. Make sure you focus on you. But make sure you support your peers and friends, and celebrate each other's successes.
2. How do you stay ahead of the curve in terms of digital trends and new platforms to use?
I'm going to be honest – I don't! If I knew how to stay ahead of the curve I would be making a lot more money! It's more about keeping an eye on what is happening and what will work for DK. My role means that I'm running and overseeing campaigns which cover the whole marketing mix not just focusing on digital. At DK, we have a Digital Marketing Manager and Digital Marketing Executive who run all our social media and email campaigns. While me and the rest of the team run campaigns booking digital advertising, coming up with social strategies for our individual titles and advertising with influencers, so we need to know what is working and what doesn't but may need a little help from our digital friends. This means that knowledge is a shared, team effort. Although, I'm proud to say that I pushed for DK to be on Popjam (a child safe social media network run by SuperAwesome); we smashed our first three month's followers target when we launched last year and we have a great monthly growth rate.
3. Describe the most useful new software or platform you've recently started using. What has made it special?
It's not particularly new but I really like Genius Link which turns your amazon.co.uk book link into a global amazon link. This is great for DK as we are a global publisher so when our book is out in the UK it is available across the world. When DK reveals an exclusive LEGO Minifigure with an AFOL (adult fan of LEGO) influencer, the one link in their social post impacts not just pre-orders in the UK but the US, Canada, Japan, France and so on for the English language edition of the book. The Genius Link allows me to support my colleagues globally.
4. How do you manage author expectations?
It isn't very often that I work with an author nowadays – DK's books don't always have a named author – although I do get to work with the wonderful Steve Mould and I've got some exciting authors next year (which I can't mention yet!). Whether it's an author or internal expectations, it's best to be upfront about what you can and can't do. Excitement about a wonderful book can make you promise things that you can't deliver on your budget or because you lack the time – we all have extraordinarily busy workloads. So just be honest. If an author or agent has an idea which you haven't considered, it's ok to go away and look into it, but don't ignore it. Get back to them about whether you will be incorporating the ideas into your plan (just be sensitive about how you communicate a negative response). The final – and most crucial point – is to ensure you are communicating with your colleagues in publicity, sales and editorial so everyone knows what's happening.
5. What's surprised you most in your marketing career?
How passionate I could become about metadata! I'm in an unusual position that DK's marketing team are partially responsible for metadata. I wrote a very impassioned article about self-published authors last year for BookMachine in reaction to an advice-filled article from someone else. Please note that my article is now out of date as metadata is a fast-moving area ie don't go back and read that as some points have changed. It's the first time I've volunteered to write anything that doesn't just appear on DK's intranet!
Thank you Claire for taking the time to answer Norah Myers's questions. Very insightful!