Twitter Tips from a Literary Agent: Juliet Mushens interview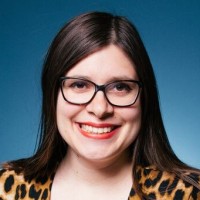 Juliet Mushens is an agent in the UK literary department of UTA. She was highly commended by The Bookseller in their Agent of the Year award in 2015, having also been shortlisted in 2014. Her clients include international bestsellers such as Jessie Burton and James Oswald, as well as social media favourites such as Very British Problems (@soverybritish). Here Norah Meyers interviews her on her role, social media and her top tips for using Twitter. 
1. Please take us through a 'day in the life' in your work as an agent
I get up at 8am and check emails that have come in overnight to clear my inbox of anything urgent before I get into the office: I work closely with our US office and with co-agents around the world who work in different time zones.
My main priority each day is chasing money for clients, negotiating contracts and writing editorial notes for existing clients. I also respond to any queries regarding foreign rights, merchandising, cover looks, translatable manuscripts and anything in between. If I've just submitted a book I can be dealing with foreign scouts (who are paid a retainer to find the hottest books for their clients), co-agents around the world, producers, and UK and US editors who want to bid on the book. I also spend a lot of time liaising with editors for sales figures, promotional updates and publicity plans to inform my authors, and to contextualise this information for them.
Evenings are often spent at book launches, drinks with editors or with scouts: it's a business built on relationships and I always like to know the books that everyone's talking about. I try and read submissions for an hour a day, normally in the evening. I get around 600 a month and I'm still taking on clients, so it's important for me to keep on top of finding new talent.
2. How does social media factor into your professional work?
I love social media and have been on twitter since it launched. I've built up over 13k followers now and my posts are a mix of book deal news, book updates, what I'm reading, cat photos and memes. I use social media to interact with unpublished writers via #askagent, to publicise good news for my books, to network, and to keep an eye on what other people are signing and selling. Some of my closest friends now are industry people I 'met' on twitter (e.g. editor @suziedoore and agent @mollykh). I think it's important to follow a broad range of people in and out of the industry: I can have an artificial belief that 'everyone's talking about' a book, and then look up sales figures and realise that it's not selling well at all, it's just that everyone in a certain circle is talking about it. I follow a mix of editors, publicists, booksellers, book buyers and then just lots of people in a range of jobs who I find interesting, funny or clever. I'm an enormous fan of people like @BimAdew, @dawnhfoster and @alexvtunzelmann. They might not post much about books, but their content is smart and provides – I think – an insight into the kind of issues and ideas which are permeating wider culture. You might not think it's important to know anything about youtube, reddit, tumblr or vine, but these are major cultural touchstones and how can we learn how to talk to consumers if we ignore the platforms which matter to them? It can be really embarrassing to see a brand pick up on something months after it was relevant (I'm currently obsessed with the 'Why you Lying?' vine and pizza rat, but these things mostly have a short shelf life).
Some publishers are great on twitter (@versobooks a prime example) but my feeling is if you are going to put someone in charge of your social media you need to give them basic training. I saw some scheduled tweets go out over the weekend from a professional account, one of which had a typo in it which turned an appropriate message into something slightly obscene! But no one was checking the account, so they didn't realise they'd had over one hundred responses until Monday morning. Similarly, I see a lot of people tweet things like '@authorname is being interviewed here, check it out!'. But starting a tweet with an @ sign means that only people who follow you both will see it. Of course, my personal favourite is when someone accidentally tweets something personal instead of DM-ing it. Social media is becoming an increasingly important part of brand outreach, but it needs to be taken seriously and given proper care and attention.
3. How do you advise your authors to use social media as part of their promotional work and their writing careers?
I don't think authors should be on twitter unless they want to be: there's no point forcing someone to adopt a medium they don't feel comfortable with. Some of my authors like promoting themselves and their books, whereas others prefer to keep twitter focused on other aspects of their life (e.g. @sirbenfro and the updates from his farm!). You should absolutely be yourself on social media, but I'd advise against being overly negative – I sometimes see people complaining about other authors, book prizes, or sales figures and I don't think it reflects well on them. If you want to complain, call your mum, or take it to DM – twitter is a public platform and it's important to present yourself in a professional light. I've absolutely wanted to send many a pointed subtweet but restrain myself as it doesn't reflect well on me: a good rule of thumb for me is 'how would I feel if my boss read this tweet?'. It's important, also, not to share information on social media unless it's approved to go into the wider world. I normally ask my authors not to talk about the submissions process until it's finished, or to share jackets or titles until they've been approved. You have to remember that whilst it sometimes feels like only a few people are reading your tweets, actually anyone could be looking at them.
I'd also advise against name-searching and inserting yourself into consumer conversations. For example, if someone writes 'I love xxx by @authorname' then you can reply. But if someone is tweeting at a friend 'is it worth buying xxx by authorname?' without @ing you in it's inappropriate to lunge in to their mentions with a 'yeah, definitely!' RTing praise is another tricky one. I think if you get a good blog review or newspaper review, of course tweet it, it's great promotion. But some people will search the title of their book and RT anything referencing it (even if it's not wholly positive). I remember once logging onto twitter and having to scroll past around 50 tweets which were an editor, publicist and marketer RTing any mentions of a book they were working on. It doesn't make me engage: it actively switches me off. Another pet peeve is people hijacking irrelevant hashtags: countless people use hashtags like #pitchwars or #askagent to promote their books even though those hashtags were set up for a very different purpose. Think of what annoys you when it comes to advertising, and make sure you don't do it yourself. Twitter can be a fantastic way of making new friends though, and building connections with other writers. I follow a lot of writers on twitter and I love the way they support one another and interact: it can be a lonely career and twitter allows a sociable outlet for them.
4. What is the best way to use social media as part of your job search?
It's a good idea to follow people who are influential in the industry, and also people who have the kind of job that you want, be they assistants or editors. Build up a friendly rapport with them, and see the kind of events they are going to, and who they are talking to. I've had people build a relationship with me on social media and then DM me and ask for a coffee to ask my advice about agenting, and I've done the same. It can definitely help with networking but always be professional, and don't cross the line from friendly to OTT.
TOP TIPS
1. Show your personality on twitter – I like to follow people who are fun, engaged and who have wide-ranging interests. Don't be frightened to be yourself.
2. Follow a wide range of people in and out of publishing.
3. Engage with people. Don't just tweet into the ether but look at interesting hashtags, respond to people, RT people, reach out to people.
4. Understand the basics. If you start a tweet with an @ sign only people who follow both of you will see it, so if you want to reach a wider audience put a . in front of it. But be sparing about when you do this, not every interaction needs to be shared!
5. Don't spam. Nothing makes me mute someone faster than people who constantly tweet. Check in on the conversation regularly, but don't tweet all the time.