BookTok: Insider Secrets from a TikTok Marketing Agency


'The reason TikTok is a great place for book promotion is due to a simple formula: algorithm + community + trends. The algorithm brings your bookish content to readers who have similar interests to you, which has helped the community element of BookTok to grow super fast. Following trends allows the content to feed into the larger picture of popular culture. This creates an accumulative effect of growth that results in more interest and "hype" around the book you are promoting. If you know how to work this formula to your advantage, you're ahead of the game.'

Niamh Wallace, BookTok creator (@booksarebrainfood) and BookMachine Marketing Executive
#BookTok is a big, well-established space in the wider TikTok universe. With over 100 billion views of the #BookTok hashtag, and billions more across hundreds of related hashtags, there's a niche to serve everyone's tastes. So what insider knowledge can we pass on, as a TikTok marketing agency?


BookMachine's Niamh featured in a Bookseller piece just last week (below), predicting 2023 trends to come. This was also on the heels of a hugely successful advertising campaign we managed for Little, Brown over Christmas – so what is it about TikTok that makes it work and how can it be harnessed?
BookMachine has worked across TikTok influencer campaigns and advertising campaigns, but find the combination of the two in terms of authenticity and balanced targeting are a real sweet spot for success.
Our most recent TikTok campaign achieved huge ROI for Little, Brown – propelling the book up the Amazon bestseller rank by over 1600 places, as well as a growth of 84% across their own TikTok account. Earlier last year, our influencer campaign for Thames & Hudson yielded equally impressive results with the book reaching #1 in the bestseller charts.
Is TikTok relevant for all businesses?
So who's using TikTok, and is it relevant for everyone's business? There are many impressive stats we could reel off here, but when it comes to TikTok marketing, we think these are the most interesting: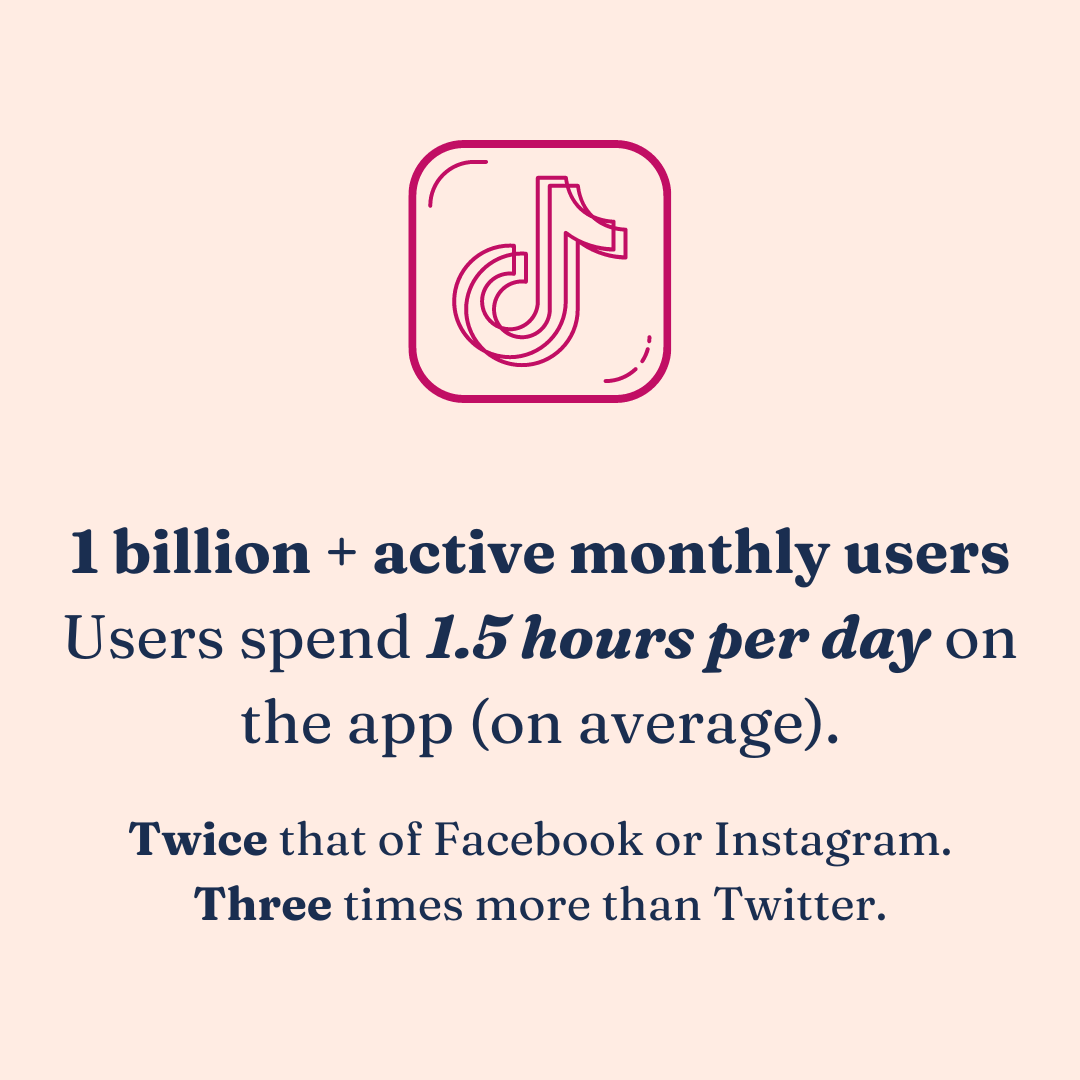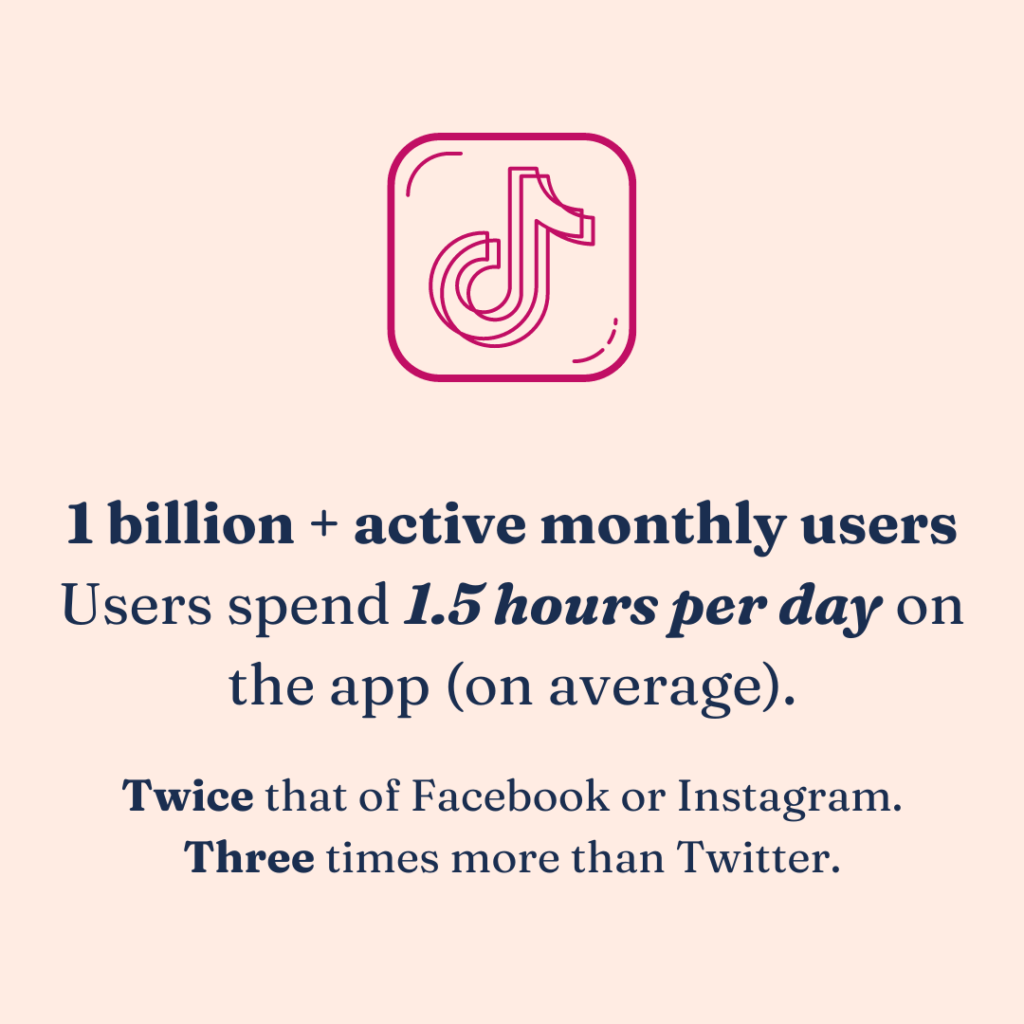 1 billion + active monthly users
Users spend 1.5 hours per day on the app (on average)

Twice that of Facebook or Instagram
Three times more than Twitter

Highest engagement rates per post across social media

Micro influencers (under 10k followers) average 18% engagement, compared to 4% on Instagram

Users are ageing with the app

over a quarter are over 40
37% are over 30
[source]
As those facts and figures show, TikTok is outperforming all other social media channels across the board. And, as of autumn 2022, their increased prioritisation of keywords for search engine optimisation (SEO) in the video descriptions, hashtags and titles means that TikTok videos are becoming more visible than ever on Google, too.
Any preconceptions of the app leaning towards trending group dance videos are long gone. In fact, using trending sounds and memes is no longer prioritised by the algorithm. Instead it's storytelling in longer videos that helps foster a sense of community that are being pushed forward. Trends still make their way around the app of course but, if used in content, they need to make sense in the context of other videos produced by the same creator.
TikTok is also pushing live videos – another effective way for creators to connect with their community in real time. At the other end of the spectrum, videos comprised of photos or still images are also appearing more regularly across the platform, further expanding the limits for creativity, and stepping directly into old Instagram and Facebook territory.
Arguably there's space for most businesses on the app, but certainly for those in the publishing and education sectors, where BookMachine specialises as a TikTok marketing agency.
BookTok and sales
It's hardly surprising that BookTok has taken off in the way it has on the platform, being both a natural outlet for those that enjoy storytelling and all the creativity that flows from that.
As the Guardian pointed out:
'It has since grown into a hugely influential community that has the power to pluck authors out of relative obscurity and propel them into the bestsellers charts.' [source link]
Only last November, The Bookseller's Futurebook Awards named BookTok as 'FutureBook Person of the Year'. In their words, the award:
'recognises not just one individual but those who use the social media platform TikTok to support books and authors, and whose influence over book sales has grown exponentially over the year.' [source link]
As an agency working across all areas of digital marketing, this is where TikTok is shining so brightly: its marked and proven impact on sales. Sometimes it can be difficult to judge whether the time and resources required to run social media accounts is justified. After all, brand awareness isn't easily measured. The difference may well lie in TikTok's algorithm.
Passive Personalisation
The TikTok algorithm is a very fast learner. What you watch and how you watch and interact with it determines what you see next, not who you follow. In fact, you don't need to follow anyone at all, but you will rapidly be served content you enjoy, keeping you hooked for longer. Think more like Spotify or Netflix, rather than Instagram or Facebook.
Editorial, not social
The curation of content on TikTok is much more aggressive, and this allows for much greater fine tuning of content, ensuring users are only presented with videos that they find interesting. In a way, TikTok isn't really about social connection, it's more of a publisher.
Due to both of these factors, TikTok is both addictive and highly persuasive – becoming a very natural sales funnel.
On the flipside, concerns have been raised by some about how TikTok curates content and who decides what users see. The app has been banned in India, and almost met the same fate in the US under the Trump government, owing to the stance of both countries in relation to China, where the app originates.
How to best use TikTok and should you DIY or bring a TikTok marketing agency on board?
One of the best things about TikTok is the ability for anyone to start an account, post videos and build a following – and opportunities to monetise – pretty quickly. Having said that, given the myriad nuances, algorithm updates and ever-changing trends, having a solid strategy and up-to-date awareness of all these areas can mean the difference between tangible results immediately and trial and error over a longer period of time.
As an agency, we have years of learned experience through working with dozens of clients across social media, and TikTok in particular. Here are some of our biggest takeaways, and the argument for using a marketing agency vs managing the work in-house:
Strategy
Should you have a personal vs business account, and what's the difference? Do you need one main face or voice for the channel, or can multiple people lead it? How often should I post and when? What trends should I join in with or avoid? What kind of video makes the best advert? Which hashtags should I use for targeting?
Strategy is the biggest piece of the puzzle. If you get it right, achieving business goals becomes a question of when, rather than if. An agency immersed in the TikTok world can put this together for you in a much shorter time frame, using the hands-on, up to date knowledge at their disposal.
Yes, there's a huge amount of free information online that can be researched, but we'd be willing to bet that the amount of resources and time required to undertake that research would be easily undercut by a marketing agency. Plus, in our experience, nothing beats knowledge gained by actually working with the app daily.
Legalities and guidance
There are a number of factors to be fully aware of when running an organic TikTok account and/or running an advertising campaign. Violating any of these could mean backlash from followers, not to mention your account being restricted or even banned.
There's clear guidance from TikTok on this, but again, it would take considerable resources to research this and stay on top of the ever-changing parameters in their guidance. An agency will have all of this knowledge to hand and, most importantly, will have creative ways to work around any restrictions and minimise their potential impact.
Content production
Clearly, the kind of content you produce will have a huge impact on how your account grows and the kind of followers you attract. The actual process of filming and editing a single video is pretty simple, but are you utilising the most effective hook to keep users watching for longer than the first 5-6 seconds (critical for engagement and to signal to the algorithm that your video should be shown to more users on their 'For You' page)? Have you included captions or keywords in the description and hashtags? Is there a trend you could hop on and ride a viral wave?
Content creation is an artform, and can often be the biggest burden (and barrier) to running a successful TikTok account. Again, the extra resource an agency can provide may be invaluable here, especially given that there's likely to be shared experience amongst marketers. For example, at BookMachine, three of the team are TikTok content creators themselves, as well as having varied experience of running campaigns for clients.
Advertising
The process of advertising on TikTok shares some similarities with the other social media platforms, but there are many elements that are unique to the platform. Whilst TikTok ads have proven to yield impressive ROI, the correct set-up and management is vital to this, at the risk of otherwise wasting precious advertising budget.
Similarly, content really matters in this context, and the best advice actually comes from TikTok itself when it advises advertisers to create a TikTok, not an ad. Said another way, the best ads are native to the platform – authentic, catchy and using a great hook. TikTok even provides a selection of the best performing ads to inspire advertisers.
In summary, you can absolutely DIY TikTok. As we already mentioned, three of the BookMachine staff have already done so on their own. However, having seen both sides of the coin, we know that using all of the shared expertise of a marketing agency will provide a huge return on investment and savings to businesses in terms of budget, staff resource and missed sales opportunities.
Interested to know if BookMachine can help your business?
If any of this article chimed with you and you're wondering whether we might be able to help with TikTok for your business, take a look at our TikTok solutions or get in touch for a chat.