Digital Marketing insights from Katie Sadler [HARPER COLLINS]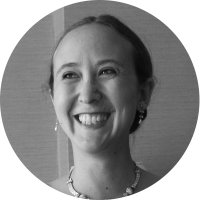 This is a guest interview with Katie Sadler. Katie is Senior Marketing Manager at Harper Collins and focuses on HarperVoyager (science fiction and fantasy) and HarperImpulse (romance) lists. Follow @katiemorwenna for more.
1. You have been at Harper Collins for over 3 years now. What's been the biggest development you've seen in how you run digital marketing campaigns during that time?
I think when I started, there was a sense of "if you build it, they will come" – a lot of micro sites and games and videos. People were spending their budget creating incredible content, but there wasn't any cohesive strategy of how to actually get people interacting with it, and converting people to buy the book. Today there is still amazing content being produced to support a book launch, but I think we try much harder to make sure that it isn't just released into a vacuum.
There is also a lot more analysing of results. A homepage takeover delivers a lot of eyeballs, but how many of them actually did anything off the back of seeing the ad? Even if you can't measure sales, there are always other things you can quantify. You HAVE to review your ad campaigns. If something didn't work, that sucks, but at least you'll know to try something different next time.
2. How much support do you give your authors in setting up their Websites? How important are author Websites to book sales?
We have set up a fair few author websites, and are always around to give advice to any author keen on setting up their own. I think that they are important to discoverability and sales if they have the right content on them.
If I discover a new author that I love, I want to read all of their books. Retailers are not always the best place to go for that, and Wikipedia is frankly a waste of time for most authors' bibliographies. Author websites can set out all of the books, show the most recent editions, lay out what order they should be read in, and provide the reader with a more curated guide to their books than just a list of titles organised by which has been downloaded most!
A lot of big name authors see their website as something the publisher should do and they therefore get updated once every couple of years when a new book comes out. That's fine, but I think the more authors can do to make their sites their own – with personal book descriptions or a regularly updated blog – the more interesting they are for the reader.
3. You were shortlisted, a couple of year's ago for your campaign around Game of Thrones at the Futurebook Innovation Awards. What made that campaign so successful?
I think it was successful because we didn't try to force readers to come to us. We went where the conversation was happening about the show, and became a part of that conversation in a very natural way. We used visually interesting assets, and always led the conversation back to the books. This show is brilliant, but the books are even better. I'm on maternity leave for this year, but understand there are going to be some pretty cool things being shared during the episodes. If you're a fan, make sure you are following HarperVoyagerUK on Twitter!
The other reason it was successful is because we were reaching out to a very specific audience with content that we knew was both interesting and relevant to them. If we could define the audience that clearly for every book we worked on, it would make our jobs so much easier!
4. You mainly work across the HarperVoyager (science fiction and fantasy) and HarperImpulse (romance) imprints. Is there a big difference in how campaigns are set up for each imprint? Or do the same tactics apply?
Our approach is different, but the thinking behind them is pretty much the same. With HarperVoyager, we are often working with fantasy authors who have big followings – lots of fans, a series that readers can't wait to get their hands on, etc. In those cases, we do a lot of work with pre-orders. What is it that these fans would love and how can we give it to them? How can we encourage them to pre-order the book AND at the same time encourage them to tell their friends about the series?
With HarperImpulse, the authors are generally less well known, without a large following, so rather than working author by author, we are working to gather more fans of the imprint and to encourage them to shout about it to their friends and family. We've done a lot of work with book bloggers in this area to help spread the word. We want people to know that if they buy a book that is published by HarperImpulse, they are getting a great quality romance, regardless of the author. That said, naturally our authors are starting to build up fan bases who love their work in particular, so campaigns have and will start becoming more individualised as time goes on.
In both cases, we start with the potential reader. Who are they, what do they love, how do we reach them and how can we encourage them to spread the word once they have read and loved a book?
5. Finally, what advice would you give to any budding book marketers?
Be on Twitter, because it can help you can keep on top of trends in the industry and current campaigns like nothing else. Everyone in the HarperFiction marketing team is an active user, and I suspect the same could be said for most of the teams in the industry, so if you are applying for jobs and want to know more about the person interviewing you, there is no where better to find out. You can be sure that they'll be looking at your profile before they meet you, too!
A the same time, once you are planning campaigns, don't become obsessed by it. Twitter is awesome for all sorts of reasons, but a lot of readers are in jobs where you aren't allowed to be on social networks during working hours. If you're thinking about a campaign that is led by social, always keep those readers in mind. A lot of publishing is on Twitter all day, but never forget that we are not (necessarily) our target audience!